29 states are under weather alerts as millions brace for a winter storm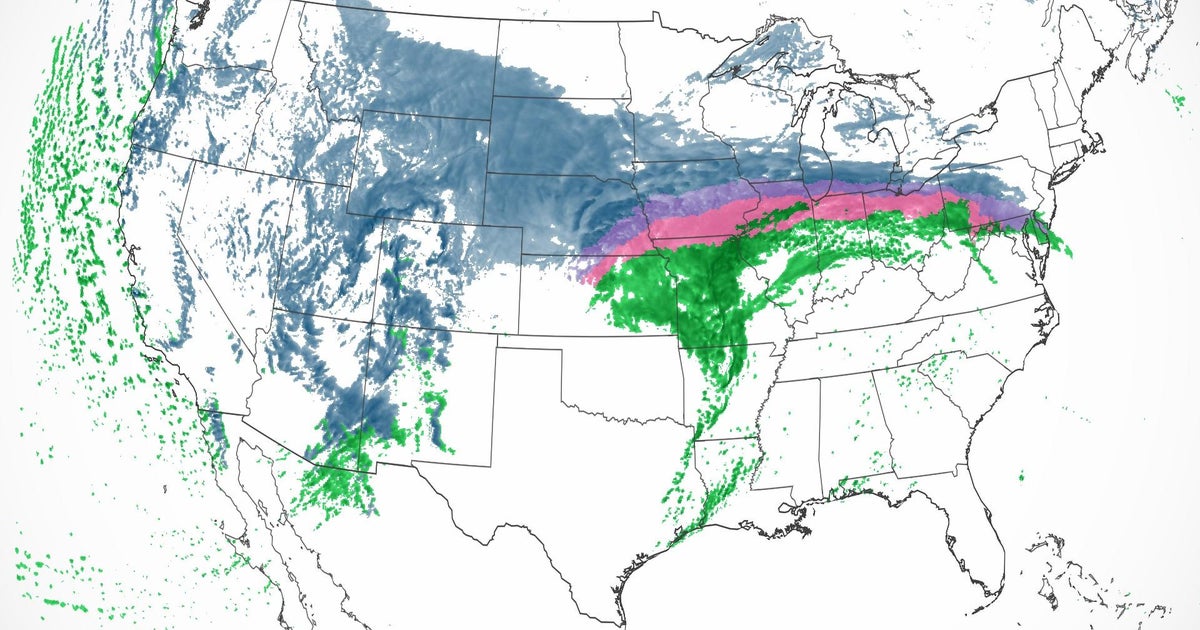 A massive winter storm is expected to bring heavy snow and torrential rain to much of the northern United States this week, with "severe impacts" being felt across a wide swath of the country, forecasters have warned.
The upper-level pattern will intensify in the coming days as millions of people, from the Pacific Northwest to the Northeast, brace for an upcoming blanket of snow, freezing rain, strong winds and possible flash flooding that has prompted winter weather advisories for 29 states. With six states under blizzard warnings. A coast-to-coast storm system this week "will bring numerous weather hazards and significant temperature anomalies" extending from Washington to Maine.
"It will be a long-lasting winter storm with severe impacts extending more or less from the West Coast to the East Coast," Chris Warren, a meteorologist and Weather Channel co-host, told CBS News in an email. While large coast-to-coast storms, even powerful ones, are "fairly common," Warren noted, "what makes this even more unique is the extreme nature of all the potential threats across such a large portion of the United States."
"There will be all kinds of winter weather," Warren noted. "Heavy snow is expected in several states with strong winds producing blizzards in parts of the northern Plains and Midwest."
Particularly severe conditions are expected in some Midwestern states, including Minnesota. Minneapolis is on track for its second-largest snowfall on record. Snow emergencies have been declared, with double-digit snowfall expected around the Twin Cities. Travel conditions will be extremely difficult, if not impossible, throughout the Midwest, with winds gusting to 40-50 mph across Interstates 90, 80, 29 and 35.
Minneapolis Public Schools announced it will close all buildings and move to e-learning for all students for the rest of the week, CBS Minnesota reported. All programs sponsored by Minneapolis Public Schools will also be closed throughout the week.
This isn't the only place under attack from winter weather. Nearly a foot of snow covers Salt Lake City, while 2 to 4 inches of snow is likely in Denver, followed by frigid temperatures with wind chills dropping to 20 degrees below. Two feet of snow is expected in the Rocky Mountains.
Heavy ice is expected throughout southern Michigan, including Detroit, which will likely halt traffic and cause power outages. As millions braced for potential power outages, airlines issued travel waivers in anticipation of continued flight cancellations and delays.
"Heavy, wet, snowy and freezing rain could cause power outages in scattered areas from the Great Lakes to the Northeast," Warren said. "Travel will be extremely dangerous if not impossible in some locations, so it is essential to listen to local officials before hitting the road."
Various regions of the country are also expected to witness record temperatures – at Different ends of the spectrum. As the winter storm subsides across the Midwest and Northeast, weather stations east of the Ohio River and across the South are expected to break 90 high temperature records on Thursday, including in Washington, D.C., which is expected to see 80 degrees Fahrenheit; Orlando 90 degrees; New Orleans 83 degrees; Louisville 77 degrees; And the rally is 86 degrees.
Conversely, cities along the West Coast of the United States are expected to set records for the coldest high temperatures during the same time period, with a high of 49 degrees expected in Burbank, a maximum of 48 degrees in San Francisco, and a maximum of 48 degrees in San Francisco. Maximum 32 degrees. in Portland and zero degrees in Billings, Montana.
"Besides the numerous weather risks expected this week, another major story will be significantly anomalous February warm temperatures in the east and cold temperatures in the west," said an advisory from the National Weather Service's Weather Prediction Center, which noted That temperatures and their highs on Wednesday will be "20-30 degrees above average in many locations across the South Plains, Midwest and Southeast and 20-30 degrees below average in the North/Central Plains and most of the West."
"Several record highs are possible/broken especially in the Ohio/Tennessee valleys, where temperatures will reach the 70s, and closer to the Gulf Coast/Florida, where highs will be in the 80s," the warning added. "Several minimum/record-breaking high temperatures will also be possible in the West, with highs in the 30s and 40s in the Pacific Northwest and in the 50s in California. Bitter cold winds are expected to reach 20-30 degrees below zero in the U.S. United States Northern Plains These extremely abnormal temperatures are expected to continue later in the week.
Warren said the "primary culprit" causing this week's extreme weather pattern "is a strong, powerful jet stream that will develop over the next few days across the entire United States."
"It will dip southward into the western United States, opening the door for a large arctic air mass from Canada to settle in while simultaneously rising eastward, allowing warmer weather to build across much of the southern Plains and southeastern United States," the meteorologist said. . "The jet stream will also play a major role in driving storms to the surface across the United States."
(Tags for translation)Weather forecast