5 recipes to spice up your Thanksgiving holiday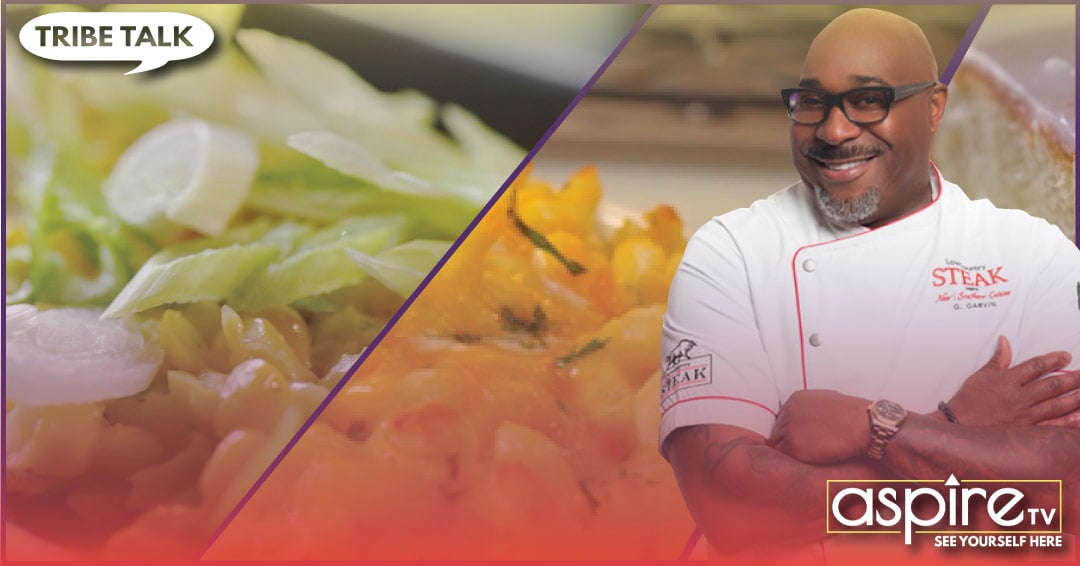 The holiday season has officially begun, and whether you're dining with loved ones for Thanksgiving or hosting a Friendsgiving with the crew, one thing that remains constant is good food.
Nothing warms the heart like good food and fellowship, and now more than ever is a good time to be surrounded by anyone who brings good energy. What's more, as the year comes to a close and the holiday season is in full swing, these are the moments when reflection is key and why not reflect on the blessings of the year over a delicious meal?
If this is the first year you've been assigned a dish or you simply want to shake things up a little beyond the norm, look no further because aspireTV has you covered with 5 recipes just in time for the holiday.
Check out your next best recipe below!
From the series produced by Issa Rae and Chef J. Garvin, Butter + Brown showcased show creators Seth Brundle and Leslie Antonoff as they prepared amazing food and drink combinations. Check out this exciting sweet potato casserole!
ingredients
5 medium sweet potatoes

1 tablespoon canola oil

1 cup fine sugar

1 cup whole milk

2 whole eggs

1 teaspoon vanilla extract

1 teaspoon salt

Half a cup of brown sugar

Half a cup of light brown sugar

Half a cup of all-purpose flour

6 tablespoons salted butter (cubes)

3 cups caramelized pecans (purchased) crushed
steps
Preheat the oven to 375°C

Wash the potatoes then dry them. Rub each potato with oil, then place them in a baking tray and bake for 35 to 40 minutes. Remove the potatoes from the pan, (carefully), divide them in half, and remove the insides from the skin. Place it in a large bowl and leave it aside to cool. When the potatoes are cool, add the caster sugar, milk, eggs, vanilla and salt. Mix well until smooth.

In a separate bowl, add the light and brown sugar, flour and butter. Using a large fork, mix until you have a crumb-like consistency.

Pour the potato mixture into an oven-safe square baking dish, then top with the crumbs. Bake it for 35 minutes. Top with crumbled pecans and serve.
Seth Brandel and Leslie Antonoff of Butter + Brown are unstoppable when it comes to maximizing the flavor of your macaroni and cheese.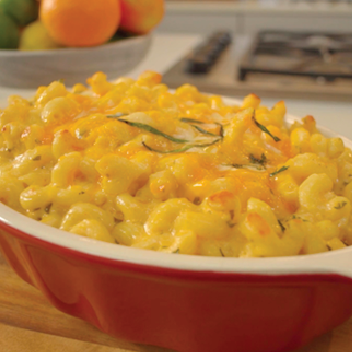 Cheese sauce ingredients
6 tablespoons unsalted butter

4 tablespoons of all-purpose flour

2 teaspoons ground mustard

½ teaspoon paprika

2 teaspoons garlic salt, plus a pinch

3 cups whole milk, warm

1 cup heavy cream, warm

8 ounces sharp white cheddar cheese, grated

6.50 ounces brie cheese, cut into cubes (skinned)

4 ounces fontina, grated

4 ounces sharp cheddar cheese, grated

2 tablespoons fresh chopped parsley

1 tablespoon chopped fresh tarragon
Topping ingredients
2 cups grated fontina/sharpe/cheddar/white cheddar (combine to your liking)
steps
Bring a large pot of salted water to a boil.

Place a large Dutch oven over medium heat and add 4 Tbsp. ghee. Add the flour and beat until smooth. (Whisk constantly and scrape the bottom of the pan to avoid burning.) Cook until pale golden brown and fragrant, about 6 minutes. Add mustard and paprika with a pinch of garlic salt and whisk to combine.

Carefully whisk the milk and cream until completely combined and smooth. Simmer over high heat and then reduce the heat to medium. Continue to boil, stirring frequently, then slowly add the sharp white cheddar, fontina, and brie and blend until smooth. Add parsley, tarragon, and salt and whisk until combined. Reduce heat to lowest setting.

In boiling water, cook the pasta for eight to ten minutes until al dente. Drain and transfer to the sauce. Stir to combine with the garlic salt, add the remaining butter and top with the cheese.

Serve hot.
Chef J Garvin is the king of mixing fine dining with a rustic touch! This fried corn recipe will have you sitting at the head of the table every year.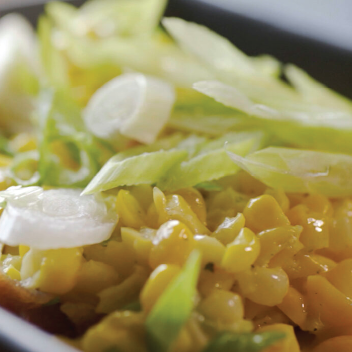 ingredients
1 pound of fresh ears of corn

½ cup chopped bacon, cooked (optional)

1 cup heavy cream

2 large green onions, cut into thin slices

1 tablespoon aloe vera

A quarter cup of olive oil

1 tablespoon chopped red onion

2 tablespoons butter

Salt and pepper to taste
steps
Over medium to high heat, add oil to the pan.

Add the onion and corn and cook, stirring frequently to prevent sticking, for four to five minutes, then add the cream until the liquid has reduced and the corn is tender.

Add the agave, cook for 1 minute, then add the butter, bacon (if using), green onions, and butter.

Remove from heat and serve hot.
Champagne makes everything better! The hosts of Butter + Brown show you a simple way to spice up holiday food!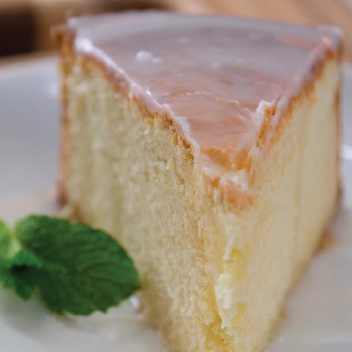 ingredients
1 ¼ cup unsalted butter, softened

2 ½ cup granulated sugar

5 eggs, room temperature

¼ teaspoon salt

¼ 3 cup all-purpose flour

1 cup champagne (or rosé moscato)

1 teaspoon vegetable oil
Icing ingredients
¼ cup champagne

12 cups powdered sugar
steps
Preheat the oven to 325 degrees Fahrenheit. Grease a 10-inch pan with baking spray.




In the bowl of a stand mixer, beat the butter until light and creamy, about 2 minutes at medium speed. With the mixer running, slowly add the granulated sugar. Beat the butter and sugar until light and fluffy, about 8 minutes at medium speed. Add the eggs, one at a time, and mix until combined, scraping down the bowl as needed.

Reduce mixer speed to low and add the slice and flour, one cup at a time, mixing until combined. Using a rubber spatula, add the champagne to the mixture. Use vegetable oil to grease the pan

Pour the batter into the prepared pan and bake in the oven until a cake tester inserted into the center comes out clean, about 1.5 hours (be sure to keep an eye on it as it can bake faster depending on the size of your baking pan).

Allow the cake to cool in the pan for at least 10 minutes before transferring it to a cooling rack. Let it cool completely.
Frosting steps
To prepare the icing, whisk together the champagne and powdered sugar in a small bowl. Drizzle the glaze over the cooled cake.
Forget your family calling you every year, this Sweet Potato Cheesecake from Leslie and Seth will have your family calling you every weekend to make that Thanksgiving show stop!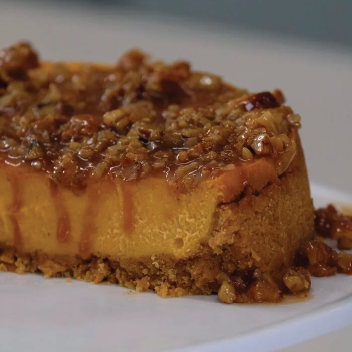 ingredients
2 small sweet potatoes

15 pieces of graham crackers

4 tablespoons butter, melted

4 8-ounce packages cream cheese, at room temperature

1 8-ounce can sour cream, at room temperature

Half a cup of granulated brown sugar

½ teaspoon kosher salt

4 eggs, room temperature

1 teaspoon vanilla extract

Zest of juice of 1 lemon

1 cup brown sugar

4 tablespoons butter

1 cup toasted and chopped pecans
steps
Preheat the oven to 375 degrees Fahrenheit. Boil a full kettle of water.

Prick each sweet potato several times with a fork and place on a baking sheet. Roast until very tender, about 1 hour. Once cool enough to handle, peel and discard the skins. Reduce oven temperature to 350°F.

In a food processor fitted with the blade attachment, grind the graham crackers until you obtain fine crumbs. Add the melted butter and stir until the ingredients are mixed. Pour the crumb mixture into a 9-inch springform pan and press firmly until it forms an even layer. Bake until edges are slightly toasted, about 10 minutes. Transfer to a cooling rack to cool completely, about 30 minutes.

Wipe out the food processor and add the sweet potato flesh. Until smooth blend. This should amount to 3/4 cup of sweet potato puree. Add the cream cheese, sour cream, brown sugar, granulated sugar, and salt. Mix until smooth, stopping to scrape down the sides of the bowl as necessary. Add vanilla, lemon zest, and lemon juice and mix together. Add the eggs one at a time, beating between additions until completely combined.




Wrap the springform pan with aluminum foil. Pour the cheesecake mixture into the prepared pan and tap on the counter to release any air bubbles.

Place the roasting tray on the oven rack. Place the cheesecake in the baking tray.




Bake the cheesecake until the edge is barely golden brown and the center is still slightly jiggly, about 30 minutes. Turn off the oven, remove from the oven, and run a paring knife along the inside edge of the pan. Release the spring block and remove the ring. Store in the refrigerator until completely cooled, for at least 4 hours.

In a small bowl, combine brown sugar, cream, and butter. Whisk occasionally, place over medium heat and leave until it boils. Add the pecans and stir to combine.




To serve, cut the cheesecake into slices and serve with the pecan topping.