Attention first-time homebuyers: These 10 metro areas have the best markets

Canvas
Attention first-time homebuyers: These 10 metro areas have the best markets
A couple standing in their new home; Man shakes hands with real estate agent
Purchasing a home can be a building block in a homeowner's financial life — and local market conditions can make or break the deal. First-time homebuyers may look to a less competitive market for a better chance of getting a realistic offer accepted. They also need affordability, so they can grow their stock and a community where they can build a network.
To determine the best markets for first-time homebuyers, SmartAsset ranked 185 metro areas based on metrics that measure affordability, growth potential, competition and demographics.
Key findings
Texas is home to the top three markets in the country for first-time home buyers. The Killeen, Wichita Falls and McAllen areas offer the best combination of affordability, housing stock, growth potential and convenient competition across the study. Waco and Brownsville also made the top 10.
Illinois has some of the most affordable housing markets. The Springfield, Peoria, Decatur, and Rockford areas have some of the most affordable payments, with median incomes ranging from 38% to 47.5% of the value of a typical home. However, these housing markets tend to be very competitive.
These southern areas are expected to witness the highest growth in home values ​​over the next year. Home values ​​in Tennessee (Knoxville, Johnson City), Georgia (Athens, Savannah) and North Carolina (Wilmington, Winston-Salem, Greenville) are expected to rise from 8.2% to 9.8% by July 2024.
California, Oregon, and Massachusetts have some of the worst markets for first-time homebuyers. Housing markets such as Napa, Oxnard, San Jose and Chico in California; Medford and Portland, OR. Boston and Springfield, Massachusetts are particularly expensive compared to average wages. The few homes that do come up for sale usually go under contract quickly.
Homes in these Midwestern cities go under contract in just three days. Lexington, Kentucky; Cincinnati, Ohio; Fort Wayne homes are on the market for the shortest time. In fact, the majority of housing markets that average five or fewer days on the market are in the Midwest, including Lafayette and Indianapolis, Indiana; Columbus, Cleveland, and Toledo, Ohio; and Bloomington and Springfield, Illinois.
---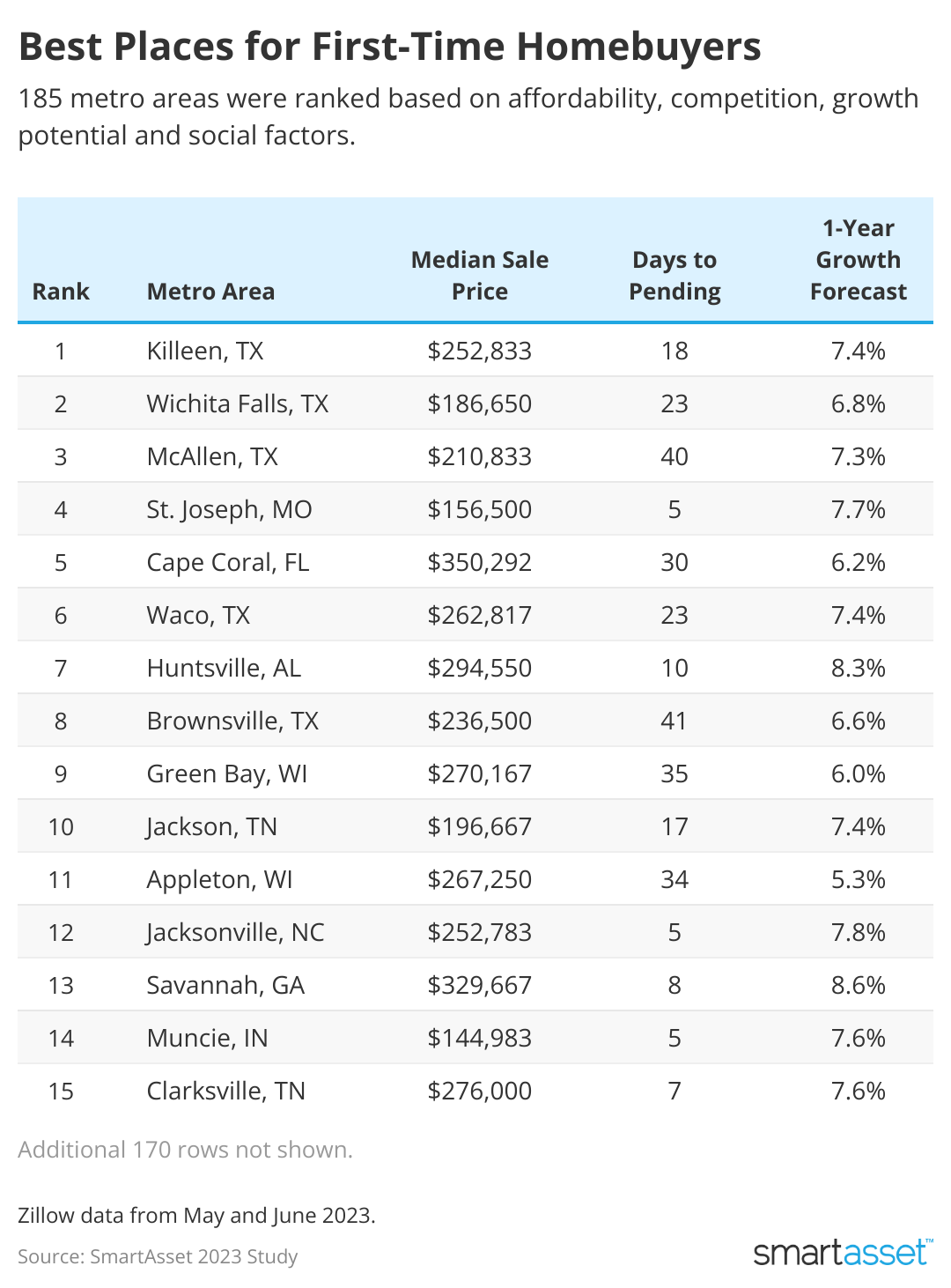 SmartAsset
Best Metro for First Time Home Buyers
Chart showing the 15 best places for new homebuyers
Here's a more detailed breakdown of our top 10:
1. Killeen, Texas
The Killeen metro area has the best combination of affordability, competition and growth, along with a reasonable young population. The median home price was $252,833 at the end of May 2023, while the median income was $63,458. As of the end of June 2023, there were approximately 3,000 homes on the market each month on average.
2. Wichita Falls, Texas
Wichita Falls is generally less expensive than Killeen with the median income ($58,523) being more than 31% of the median home price of $186,650. However, home inventory is lower, with expected 12-month value growth slightly lower at 6.8%, and fewer 25- to 39-year-olds.
3. McAllen, Texas
Located on the US-Mexico border, McAllen has a comfortable market with an average wait of 40 days. The median home price is $210,833, while the median income is $47,597. This population of 880,000 sees about 2,352 homes on the market in an average month.
4. St. Joseph, MO
Of the top 10 housing markets for first-time homebuyers, the St. Joseph metro area is the most affordable compared to the median income of $58,093. This represents just over 37% of the typical home value of $156,500. Homes here are on sale for only five days on average. But the expected growth of 7.7% over 12 months is a good incentive to make an offer.
5. Cape Coral, Florida
Cape Coral has the highest number of active listings per person, and homes take an average of 30 days from listing on the market to waiting. The typical home value here is $350,292, which is almost seven times the median income ($70,364). While the value of these homes is expected to grow by 6.2% over the next year, this community has a particularly low percentage of people between the ages of 25 and 39 at 10.62% of the population.
6. Waco, Texas
Homes in Waco are valued at $262,817 and wages are only a quarter of that, $63,794. This metro area is home to approximately 280,000 people and there are an average of 1,325 homes on the market per month.
7. Huntsville, AL
Huntsville residents have the highest median income among the top 10 markets for first-time homebuyers at $81,734. Homes cost an average of $294,550 and spend only 10 days in activity before entering into contract. Home values ​​are expected to grow by 8.3% by next summer.
8. Brownsville, Texas
Homes in Brownsville take the longest to go under contract at 41 days, indicating an easier market for first-time homebuyers, despite an expected 6.6% growth in home prices over the next year. The median home value is $236,500, while the median annual income of residents is $51,098.
9. Green Bay, Wisconsin
The Green Bay metro area has an average of 1,006 homes on the market per month. These homes remain active for 35 days and cost an average of $270,167. Meanwhile, residents earn a median annual income of $70,784.
10. Jackson, Tennessee
Jackson homes averaged $196,667 at the end of May 2023, with the potential for 7.4% growth by next summer. Residents here average $55,421 per year and can expect a home to take about 17 days from first being listed until it goes under contract.
Data and methodology
This study examined 185 metro areas for which data were available. Cities were ranked based on four metrics, consisting of:
Affordability: Average selling price relative to average income. The median sales price comes from Zillow (Smooth, All Homes, Monthly) on May 31, 2023. The median income comes from the U.S. Census Bureau's 1-year ACS S1901. Data from 2021, adjusted for 6.2% wage growth through June 2023 based on average hourly earnings for all employees in the private sector.
Growth potential: Zillow Home Value Forecast; All major forecasts, one year; Houses (SFR, apartment/barn), paved. 06/30/2024
a race: Average Days to Outstanding from Zillow June 30, 2023; Inventory per capita: Zillow – Inventory for sale, all homes, graded, monthly; and the US Census Bureau one-year ACS 2021 DP05.
social: Population ages 25-39: US Census Bureau 1-Year ACS 2021 S0101
This story Produced by SmartAsset Reviewed and distributed by Stacker Media
---