Ben Griffey surfs seven seas in seven days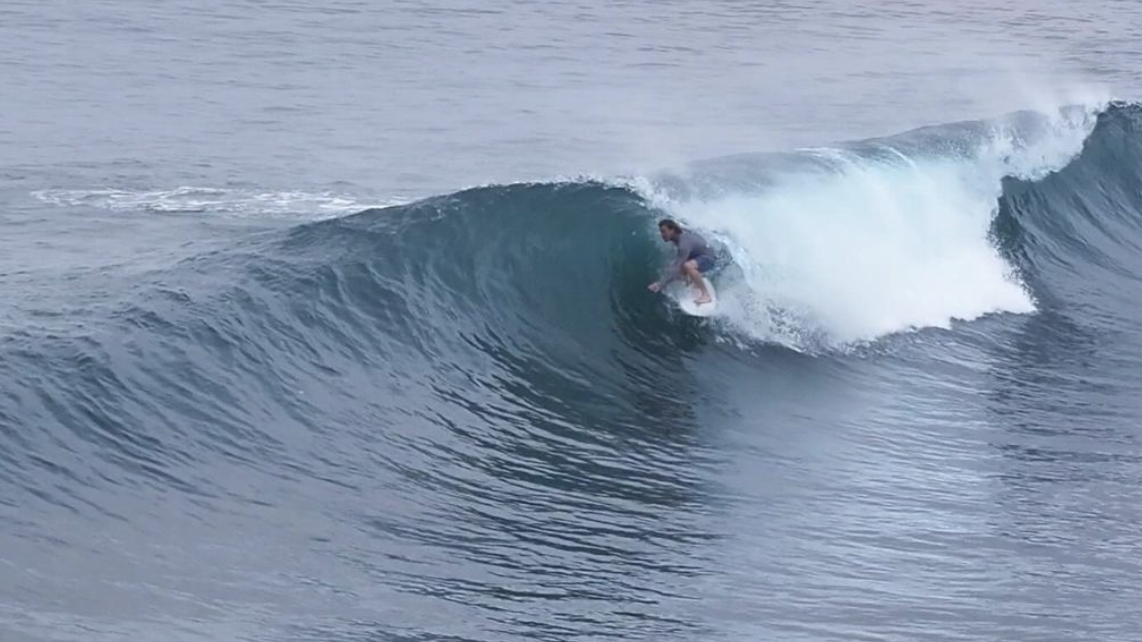 Surfer Ben Griffey chases the weather.
He makes his living surfing 'new waves' and sharing videos online.
His latest quest took him to five different countries.
Seven seas in seven days.
That was surfer Ben Griffey's goal when he embarked on an epic journey that would see him surfing in five different countries, with 30,000 miles of travel, including 72 hours on commercial planes.
All in one week, and it all depends on the weather.
"Once I discovered that it was actually humanly possible, and I could use the international date line and all these different flights and times to make it happen, there was really nothing stopping me from doing it," Gravy told us via a social media post. Video interview from Norway.
"It was about finding the perfect time of year when I could get good waves, at least, at every stop."
Chasing the weather
Gravy, whose real name is Ben Graeff, makes a living capturing waves and sharing videos of them online. In 2019, he completed his quest to surf all 50 states.
"I call it new wave fishing," Gravy said.
He chases waves whipped up by winter storms and hurricanes in the United States and hurricanes in Asia, and rides waves from ferry boats in Germany and cargo ships in Galveston Bay.
"I'm looking at different winds, going through weather apps, like all kinds of things, checking the waves, checking the buoys, what's going on with the swell," Gravy said.
"Then when that storm starts to leave, hopefully it will break off and start heading toward a certain direction so that it will pull the wind with it…all that weather is settling in, and the wind will be heading outward and it will create those perfect-looking waves with the wind blowing from above that we're looking for." "
A trip from Japan to Norway
The goal of achieving seven seas in seven days, supported by Red Bull, began on October 31 in Japan, where Gravy sailed the North Pacific. Water temperature: 67 degrees.
"We pretty much saw the entire weather gamut, the full range, we saw it all," he said of the week-long trip.
"In Japan, it was like fall, it felt very fall-like…but then we went from Japan to Bali, Indonesia, and it was short, and we were sweating, and it was 95 degrees outside, and very humid."
Bali was the second stop, where the Indian Ocean temperature was 83 degrees.
Then it headed to the southern and southern Pacific oceans in Australia; the Gulf of Mexico in Galveston, Texas (alternative to the South Atlantic); and North Atlantic in Atlantic City, New Jersey.
The last stop was Hardstad, Norway, and surfing in the waters of the Arctic Ocean, which reached a temperature of 45 degrees. On land, ice covered parts of the beach.
"There's something a little different about the Norwegian cold. It definitely chills you to the bone," Gravy said in a video posted on his Instagram account, wearing a thick wetsuit.
A different kind of professional surfing
Griffey, 34, grew up surfing the Jersey Shore and dreamed of a career on the pro circuit. When that didn't work out, he went to film school. From there, he surfed and did stunts until he suffered an injury that sidelined him in 2015, leading him down the path of sober living and the type of surfing he does today. Since then, Gravy has grown into a popular vlogger with a bright and positive personality with over 189,000 subscribers on YouTube.
As far as he knew, he was the only person to have ridden seven seas in seven days.
More stories from Jean Child
–​Ice climber Will Gadd climbs the world's melting peaks
–A photo that captures the boy's joy at seeing the spacecraft launch
–A Harvard professor skips retirement for a chance to help save the planet
Weather.com Reporter Jean Childs Covers breaking news and features on weather, space, climate change, environment and everything in between.
The Weather Company's primary journalistic mission is to report on breaking weather news, the environment, and the importance of science in our lives. This story does not necessarily represent the position of our parent company, IBM.