Climate change is narrowing the window for prescribed fires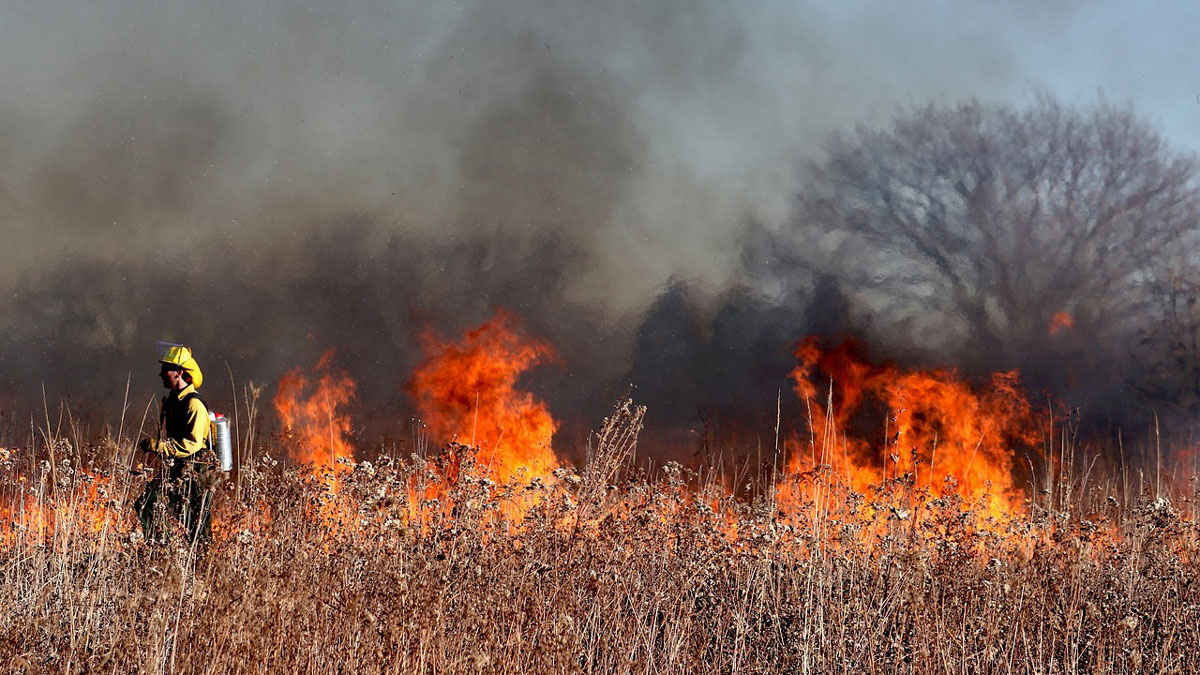 Firefighters set prescribed burns and carefully monitor them with the goal of preventing large wildfires. But climate change may narrow the window of opportunity for these prevention efforts, according to a new study published in 2018 Earth and Environment Communications.
The study's authors used historical and projected trends to forecast future weather conditions in the western United States, then compared the results to burn plans that identify suitable conditions for prescribed fires. Their findings suggest that the number of days that prescribed fires can be used safely may decrease by 17% in the coming decades.
Fight fire with fire
Wildfires are becoming increasingly frequent and severe in the western United States, due to drought and human-ignited fires. Because more than 16 million homes in the western United States are located in fire-prone areas, wildfires threaten many people's livelihoods and health.
In prescribed fires, fire crews burn dead and dried vegetation in a controlled manner, reducing the amount of fuel available. When lightning or humans start a wildfire in an already burned area, that fire is unlikely to turn into an inferno.
"Prescribed fires are an essential tool," said Casey Teske, head of the National Park Service's wildfire and environmental sciences program, who was not involved in the research. "They can help reduce hazardous fuels, restore and maintain ecosystem health and resilience…and are often more cost-effective than other methods."
But prescribed fires require certain conditions, explained Daniel Swain, a climate scientist at UCLA and lead author of the new study.
"Prescribed fire practitioners want vegetation conditions to be in the moderate range — not so wet that it prevents burning, but not so dry that burning is too intense," he said. If the weather is too hot, too dry, or too windy, prescribed fires can get out of control and cause the damage they are supposed to prevent.
In the western United States, prescribed burning is typically conducted in the spring or fall, when weather conditions are more likely to be moderate. But as climate change leads to hotter, drier, and longer summers, the window of opportunity for prescribed fires is changing, too.
Longer summers and shorter windows
In the new study, Swain and his colleagues considered how climate change could alter the duration of prescribed burning. The researchers used climate data to track temperature, humidity, and wind conditions from 1981 to 2020, then modeled future weather conditions out to 2060. Next, they compared their weather models to burn plans from the National Park Service, the U.S. Forest Service, and others. Institutions to determine the number of days that can be suitable for prescribed fires.
The results indicate that a 2°C (3.6°F) global warming could reduce the number of appropriate prescribed burning days by 17% (about 10 days) across the western United States. The decline is particularly pronounced in the spring and summer, when scheduled fire days are expected to decrease by 25% and 31%, respectively.
"Many fire managers find it difficult to burn as often as necessary," said John Kupfer, a landscape ecologist at the University of South Carolina who was not involved in the study. "Shrinking burn windows…will pose a greater challenge to the safe and effective application of prescribed fires."
Researchers also noted regional differences. Prescribed burn windows will narrow significantly in Nevada, Arizona, New Mexico, Utah and Colorado. Along the central and southern California coast, fire crews will lose up to a month of the current burn. However, in the northwestern United States, the forecast decline is weaker, and parts of Montana and the northern Rocky Mountains may see an increase in potential fire days.
New window to winter burn
As climate change reduces the number of suitable days in spring and summer, winter may emerge as a more promising time for prescribed fires. According to the study, the chances of prescribed fires in winter could increase by 4% (just over half a day) by 2060.
"Increasingly warm and dry conditions (in winter) may push historically wet areas into an acceptable range by drying out fuels that were too wet to burn efficiently in the past," Swain explained.
The researchers' findings suggest this will happen in the northern Rockies, inland Oregon, and northern California. However, shifting scheduled firefighting efforts to the winter may be difficult because most federal firefighting personnel work seasonally.
Overall, Teske noted that changing weather conditions will require some adjustment from fire management teams.
"New approaches to policy, financing and implementation of prescribed fire fuel management projects will need to be considered," she said.
—Caroline Hassler (@carbonbasedcary), science writer
the quote: Hassler, C. (2023), Climate change narrows window for prescribed fires, Eos, 104, https://doi.org/10.1029/2023EO230432. Posted on November 16, 2023.
Text © 2023. The Authors. CC BY-NC-ND 3.0
Unless otherwise noted, images are subject to copyright. Any reuse without express permission of the copyright owner is prohibited.
Related