Continued harsh weather conditions leading to premature growth of crops in Brazil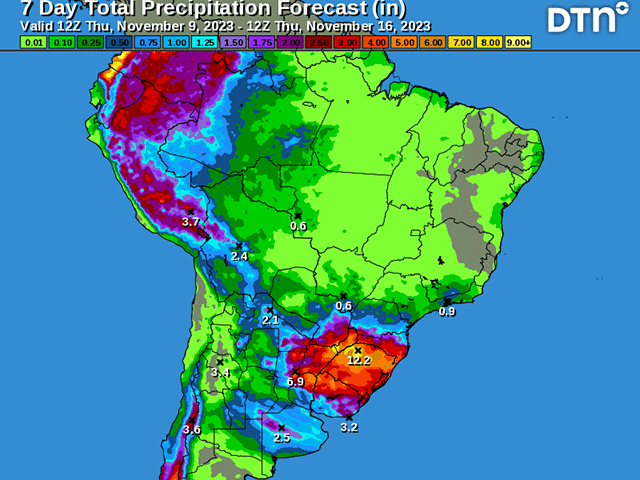 Farmland is saturated with water, making it extremely difficult for producers there to harvest winter wheat, which has been largely damaged and has seen a decline in quality, and to plant corn and soybeans. Even if the crop is in the ground, development conditions are very poor.
After a short break in these conditions last week and weekend, the familiar pattern was redeveloped this week. Central Brazil became dry early this week and that is expected to continue into next week. Intermittent and isolated showers and thunderstorms may develop, but their coverage and intensity will be much lower than what we typically see during the rainy season. On Wednesday, thunderstorms returned to Rio Grande do Sul from a front moving north out of Argentina. Many of these fronts are expected to move into the region and stop over the next week, bringing more heavy rain to areas that don't need it.
Forecast amounts are expected to exceed 75 millimeters (about 3 inches) over a wide swath of the region, with heavier amounts possible locally as well.
This pattern shows some signs of changing. One of these fronts parked in southern Brazil is expected to shift north into central Brazil from November 18-19. While southern Brazil is allowed to dry out, central and northern Brazil will get some much-needed rain. Whether this will be a temporary shift in the pattern, or a move towards a more typical pattern of occasional rain in southern Brazil and heavy rain in central and northern Brazil remains to be seen.
But there are some indicators that it may be so. However, the country will need some time in its normal pattern to correct the course of Brazil's crop production. In central Brazil, soybean crops will be replanted in several areas, delaying the season and threatening safrainha (second season) corn and cotton crops. Soaked soil in the South will need a few dry stretches to drain and give the seedlings a chance for their roots to breathe. For at least the next week, and perhaps longer, the weather in Brazil will remain unfavorable for crop production.
We have to realize that this is still very early in the season. The growing season is still ongoing, and the most critical period of rainfall for the soybean crop in central Brazil does not begin until another month later during pod filling. There is still time to correct the early season problems and return to a more typical pattern that will help the two regions achieve their record soybean production potential that most agencies are still anticipating.
As for the corn crop, 75% of its annual production is due to the safrinha plant, it is most at risk. Delays in planting, or the need to replant, hinder the cultivation of the maize crop. Now in November, this will push the crop out of the favorable planting period, which ends in late February.
Corn planted after this window is at greater risk of the wet season rains ending before the crop goes through the pollination period, which could result in it relying solely on soil moisture until the end. So far, no underground moisture has built up, although the rainy season still has a long way to go before it ends.
To find more international weather conditions and your local forecasts from DTN, visit https://www.dtnpf.com/….
John Baranick can be reached at john.baranick@dtn.com
(c) Copyright 2023 DTN, LLC. All rights reserved.
(Tags for translation) Severe drought