Drier and warmer weather returns this weekend
It seems that the period of cloudy, cool and rather saturated weather is coming to an end. Rain will taper off around the ArkLaTex Thursday night and Friday as some sunshine returns. The weather this weekend and most of next week will be dry and fairly hot.
Less rain, more sun: Scattered areas of rain returned to Arclatex on Thursday. This rain slowly decreased Thursday afternoon and will likely continue to fall Thursday night. Futurecast shows we will see mostly cloudy skies Thursday night. Friday will start with a lot of clouds. These clouds gradually diminish from north to south during the day. Most of the ArkLaTex will remain dry on Friday with a little rain possible on the southern edge of the region. The clouds will continue to drop Friday night and we will see plenty of sunshine over the ArkLaTex this weekend.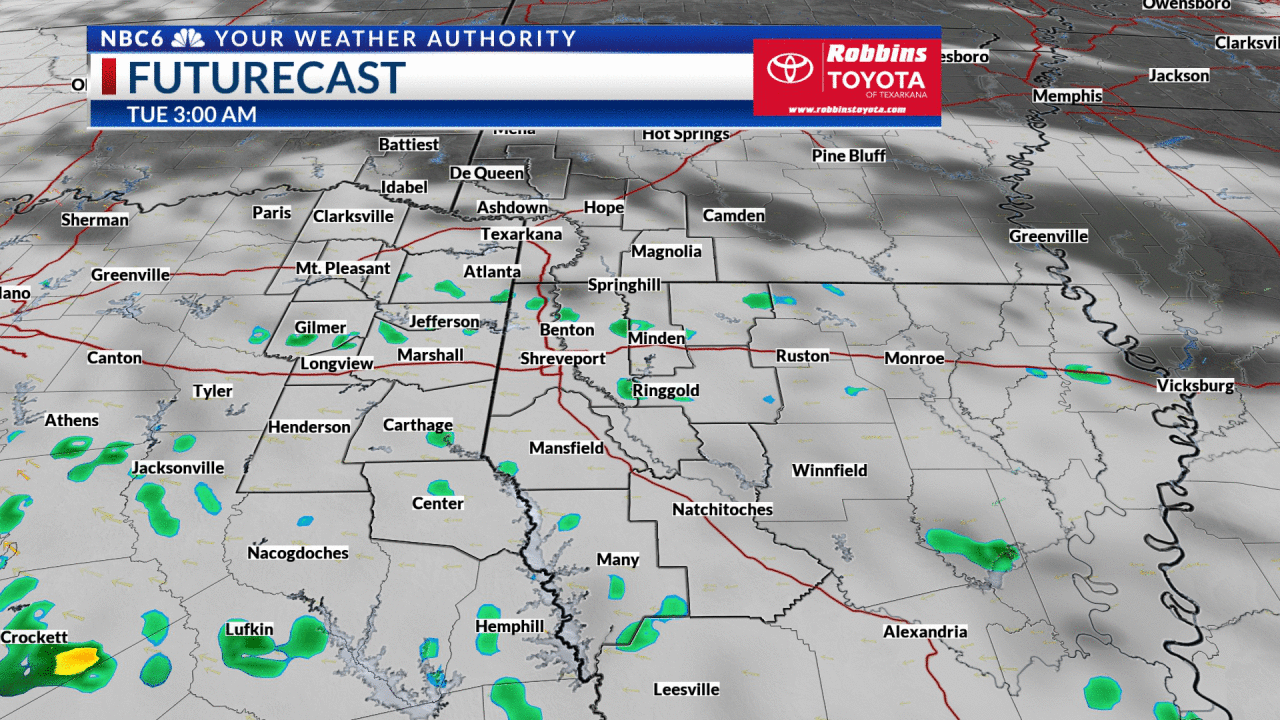 Temperatures return to normal: Temperatures on Thursday were again significantly warm thanks to clouds and scattered areas of rain. This is likely to change in the coming days. Thursday night temperatures will likely be very close to normal as we settle into the low to mid 60s. Daytime highs on Friday will be much warmer as we will likely get back into the mid to upper 80s. A few sites can see 90 degrees. This warming trend will continue this weekend and early next week. High temperatures this weekend will climb into the lower 90s. We will likely see some mid-90s areas by the middle of next week.
Questions for next week: There is some uncertainty as to whether we will see heavy rain next week. Most models indicate we could see a little rain late in the week. It is also possible that we will see more rain next Wednesday. So it looks like we'll see some rain at some point during the latter half of next week. The biggest question remains when the rain will come. Rain or not, we likely won't see much of a change in temperatures as highs late next week will remain in the upper 80s to lower 90s. Low temperatures will rise to the mid to upper 60s.
Rainfall for 10 days: With rain chances drying up this week so to speak, we are now starting to get a sense of how much rain we could see next week. Right now, it doesn't look as if the mix of models that will be in view over the coming weekend shows that 10-day totals over almost the entire area will be ½ inch or less. This is not good news because we typically receive about 1 inch or so of rain during this period in late September. Fingers crossed that these numbers go up.
Get daily forecasts and exclusive severe weather details on storms as they approach your area by downloading the Your Weather Authority app, available now at App Store And Google Apps