The joy of a new school year belied the logistical challenges of Wisconsin's second-largest school district on Tuesday in Madison.
On their first full school day—some students started on Friday, but most started on Tuesday—a new bus provider and old buildings without air conditioning meant many students were arriving late to the buildings or waiting for the afternoon bus somewhere they couldn't keep quiet.
Three of Jason Kennedy's four children boarded the bus within a few minutes of their scheduled time. Kennedy said the kids, who attend Elvehjem and La Follette, were "pleasantly surprised" by transportation challenges so early in the school year.
But that didn't last, as his middle school daughter waited an hour at the bus stop before a friend drove her to Sennett Middle School. Kennedy said other students continued to wait at the stop until the bus arrived two hours later than scheduled.
"It's fortunate that our kid has a cell phone, but not all kids at the bus stop have cell phones," Kennedy said. "There are parents at work who expect their children to be transported safely to school. Especially when it's hot like today, you want them to get to school on time."
Late Monday night, the district sent an email to the families, including the Kennedys, explaining some changes to the transportation schedule for Tuesday mornings and afternoons: Five schools have buses arriving at least 15 minutes late and up to 30 minutes late. morning, and four of them are buses that are 30 to 45 minutes late for pickup in the afternoon.
"We apologize for these necessary changes late at night, which will help us ensure that every MMSD child gets to and from school as safely and efficiently as possible," the district email read.
An email Tuesday morning acknowledged further bus delays. Kennedy said late Tuesday afternoon that he hopes the district will acknowledge what went wrong and make it clear "what this means moving forward."
Kennedy said: "We don't know if this bus will do the same thing tomorrow or not, so now we have to know how our child will go to school without knowing what the plan is for that."
There were more. In another email to families Tuesday afternoon detailing the afternoon delay, MMSD wrote that although they expected some early challenges with a new service provider, "the disruptions that many area families experienced today and last Friday are unacceptable and we have moved many to bus company.
"For the time being, where possible, parents are encouraged to make alternative arrangements for their students," the letter read.
Driver shortage is still an issue
The challenges coincided with the early days of the region's new transportation provider, First Student Inc. MMSD contracted with First Student this spring as its previous agreement with Badger Bus expired.
The change was supposed to help the region cope with an ongoing shortage of bus drivers that has caused problems since the start of the pandemic. Through a nationwide process, the hope was that First Student could use its larger pool of resources to avoid the problems I encountered last year in MMSD.
On Tuesday, District Communications Director Ian Folger wrote in an email to The Cap Times that a driver shortage was the cause of Tuesday's challenges. He also wrote that the MMSD transportation team "worked with First Student all weekend to identify a plan that would allow for minimal disruption to both families and schools."
"This plan, which was finalized late yesterday evening, includes drivers returning again on certain routes today, to ensure every student is accommodated and every route is operational," Folger wrote. "We realize the timing of the message was not ideal, but we have passed it on to the affected families once the path forward has been identified."
Among the benefits the transition to First Student was supposed to bring is the transition to a two-tier schedule, with only two starting times for elementary and middle schools across the district instead of three. This helped bring promised changes to middle school start times — originally scheduled to be implemented by the start of 2021-2022 — to fruition after the pandemic interruption.
Folger wrote that the district is "working as hard as we can to mitigate inconvenience and inconsistency".
"We fully appreciate the ripple effect that unreliable student transportation has had on parents' days, and are extremely grateful for the patience our district families have shown in these early days of partnering with our new transportation provider," Folger wrote.
"The new school year is an adjustment for everyone, including us," Senior Student Communications Director Jane Bedinger wrote in an email to the Cap Times on Tuesday, with routes taking longer at the start of the school year as drivers learn them.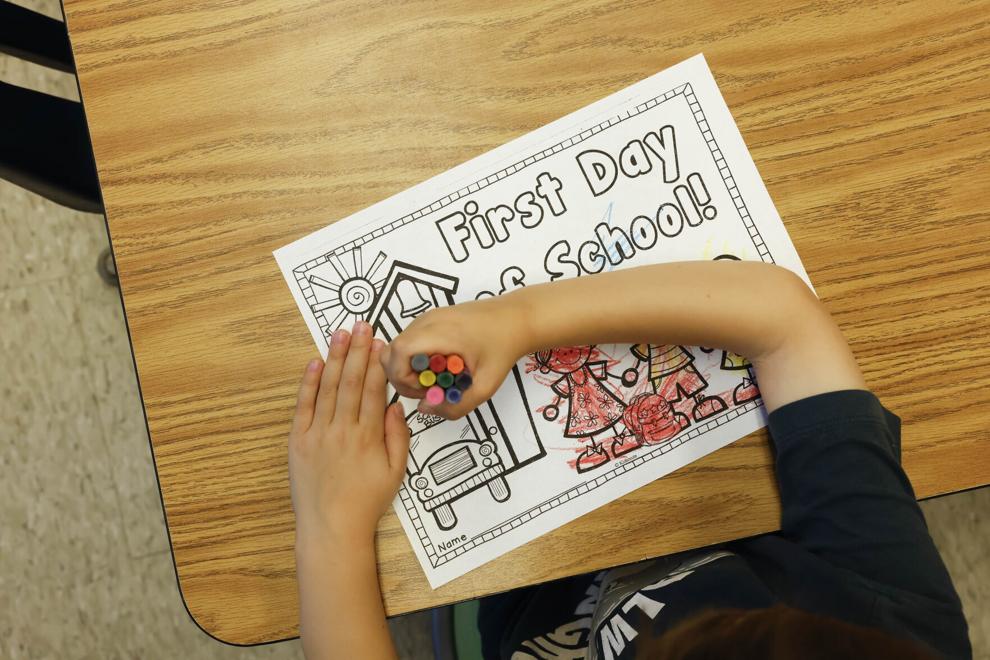 "They need to go over safety protocols and guidelines with the students while also making sure they get on and off the bus at the correct stop," Bedinger wrote. "Improvements are also being made to routes and timetables."
Bedinger said the company continues to recruit, hire and train new drivers, with wages starting at $24 an hour and a $3,000 sign-on bonus.
"As part of our commitment to providing the best possible service to families, we have sourced highly trained drivers from other First Student locations to support our operations in Madison," Bedinger wrote. "They will remain in the staff while we continue to qualify new drivers."
While she appreciated the "community's patience and understanding," Bedinger did not say how many drivers the company would need to hire to reach the required number of MMSD routes.
Madison Teachers Inc. CEO Jeff Knight wrote in an email that the union finds it "disappointing that the new carrier has not lived up to the promises made during the bidding and selection process."
"MMSD has been assured that the roads will be ready and they are confident they will have enough drivers," Knight wrote. "For the sake of the students and families, we hope these issues can be resolved sooner rather than later."
Hyperthermia
Monday night's bus email was the region's second significant message over the Labor Day weekend. Earlier in the afternoon, the district posted on its website about the "unreasonably warm start" to the school year.
The district explained in its letter that schools will be open during a heat warning, when a daytime heat index is between 100 and 104, but will close due to an excessive heat warning with a daytime heat index of 105 or higher.
The maximum temperature on Tuesday was 86 degrees, according to Accuweather. This is not typical. The average high on Sept. 5 in Madison, according to Accuweather, is 77 degrees, and the record is 93 degrees. The maximum temperature last year was 72 degrees.
The letter from the district also outlined steps MMSD will take to help students and staff beat the heat, provide bottled water, prioritize fans in each classroom and avoid prolonged exposure to sunlight and outside heat.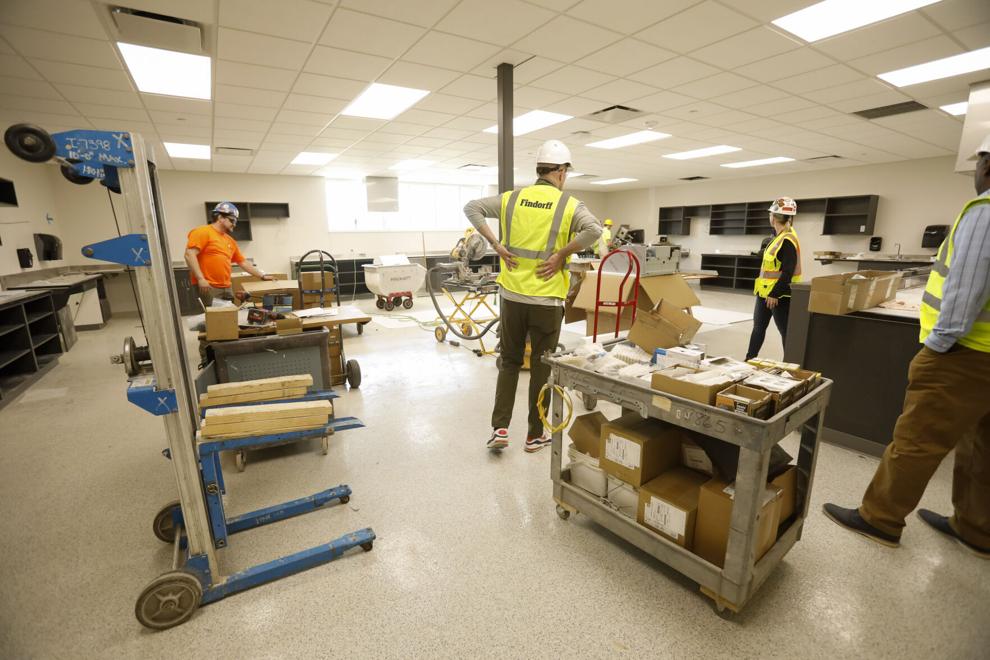 It was an "exciting day to be back", but staff and students are "all feeling the effects" of the heat, Hawthorne Elementary teacher Elizabeth O'Leary said in a statement, provided via MTI. O'Leary said she had six fans in her classroom, "which sounded good but it makes it hard to hear because of the noise and they can blow papers everywhere which is annoying too.
"Our region and our community will have to work together to find a better solution if such heat continues to occur," she said. "For example, supplying bottles of water for an entire school, or providing more fans. This will not go away with the state of our climate, and people are shocked when they hear that our schools do not have air conditioning."
In a statement, Knight said spaces in older buildings can "remain very hot" even when it's cool outside.
"Students and staff are struggling to stay focused on teaching and learning during these stifling circumstances," Knight said. "It's miserable, and it's another reminder that our elected leaders talk about the importance of education but refuse to fund needed improvements to school buildings that would improve student learning conditions.
"It is particularly frustrating to know that they make these decisions from comfortable offices with adequate air-conditioning, heating and ventilation, and that the extra funding goes to private schools that often have newer buildings and are funded by donors and other benefactors, in addition." To the money they take from the public schools."
Air conditioning has long been an issue in MMSD buildings, most of which were constructed before 1970.
Folger wrote on Tuesday that all the district's comprehensive high schools, Capital High School and Southside Elementary School are all fully air conditioned due to the successful 2020 D.C. referendum. High schools were a priority, former building and administrative services executive Chad Weisz told the Cap Times. In the fall of 2019, because of the number of students it reaches.
"We think the most compelling, most promising, and most likely locations to take on are our high schools," Weese said. "We could reach a third of our student body…every attendance area is affected by these improvements."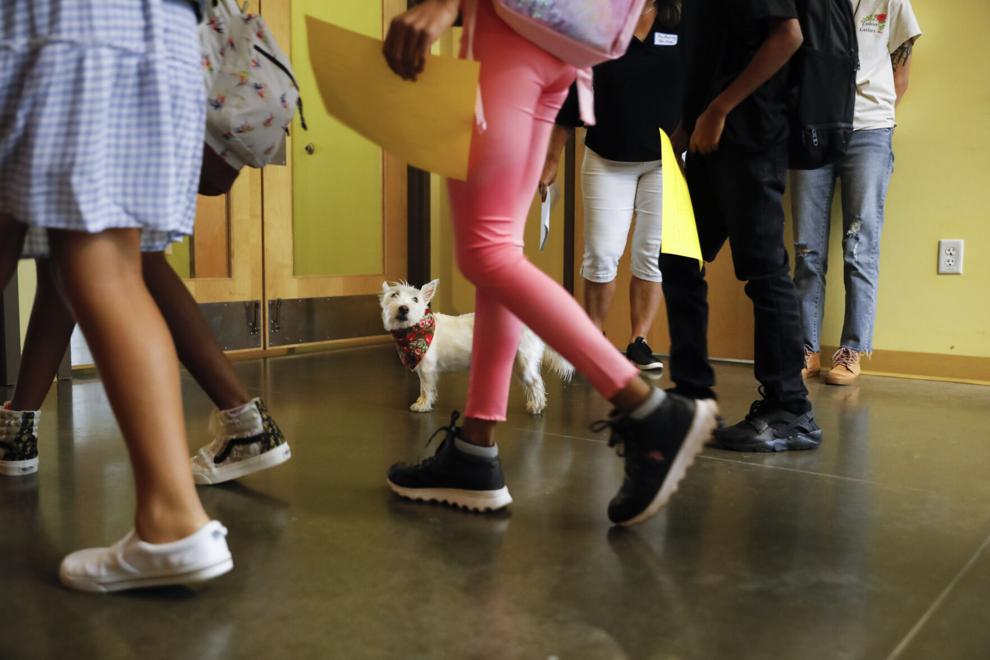 Chavez and Olson Elementary Schools and Badger Rock Middle School – all built since 2000 – are fully air conditioned, while Gillespie (formerly Jefferson) Middle School has 72% air conditioning coverage. Wright Middle School is 58% air-conditioned, according to Folger's email, and an additional 15 schools are between 10 and 25% air-conditioned.
A 2018 National Bureau of Economic Research paper supports the claim that hotter schools make teaching and learning more difficult. Researchers examined the scores of 10 million students who took the PSAT more than once, and found that the students scored lower after a hotter school year.
"Without air conditioning, a school year that was one degree Fahrenheit hotter reduced learning that year by one percent," the researchers wrote, suggesting that heat likely reduces the effectiveness of teaching time.
The data suggests that air conditioning "almost fully offsets the effects of cumulative heat exposure."