Flood Action Week: Households need to know about flood risks after 2023's record weather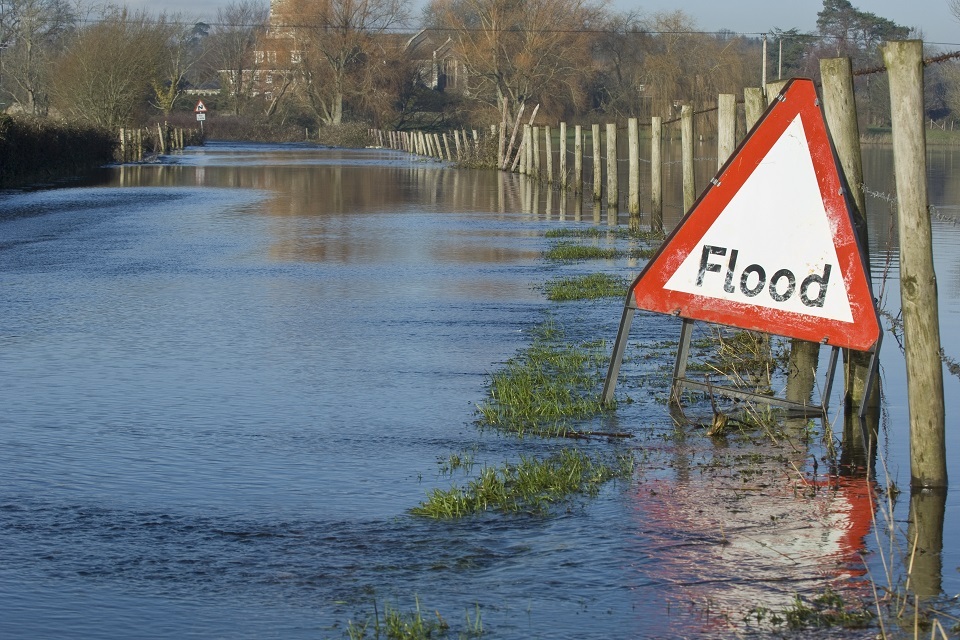 The Environment Agency is this week urging communities to make sure they know about flood risks amid increasing extreme weather events.
Following this year's record weather, the Environment Agency is launching its annual awareness campaign – Flood Action Week – that making just one simple change can reduce impacts on homes and families and even save lives.
Around 5.5 million homes and businesses in England are at risk of flooding, and climate change is increasing the risks. It is clear that we are already seeing the effects of the climate crisis around the world and in the UK with wetter winters and hotter and drier summers.
One of the key messages of COP28, which will be held in the United Arab Emirates on November 30, is that the world must prepare for the impacts of increasingly extreme weather. Data published elsewhere this month by the Copernicus Climate Change Service show that 2023 will likely be the warmest year on record.
This has been very evident over the past few weeks. According to the Met Office, Storm Babbitt experienced the third wettest independent three-day period in a series in England and Wales since 1891, while the Midlands provisionally recorded the wettest three-day period on record.
Nearly 100,000 properties were protected as part of the Environment Agency's response to flooding caused by Storm Babette, while the Flood Warning Service sent out more than 300,000 messages via email, phone and text. Unfortunately, about 2,100 properties were flooded.
The Environment Agency is working to understand whether more can be done to better protect these properties in the future. However, households and businesses can also plan ahead to mitigate the effects of floods.
Alan Lovell, head of the Environment Agency, said:
As climate changes, the frequency and severity of floods will get worse. So far this year has seen two devastating storms, while the Midlands recorded its wettest three-day period on record.

During Storm Babet we worked to protect nearly 100,000 properties and we invest millions in keeping communities safe, but we know that some floods can't always be prevented. This is why it is essential to know what to do in the event of a flood.

Knowing just one procedure can reduce the impacts on your home and family and even save lives. Anyone can go online to check if they are at risk, sign up to Environment Agency warnings and, most importantly, find out what to do in the event of floods.
Floods Minister Rebecca Pow said:
I know how devastating floods can be to homes and businesses – and these extreme weather events are becoming more common.

The Government is working hard to help the nation become more resilient, with a record investment in flood and coastal erosion risk management in England.

But there are some simple steps we can all take to be better prepared in the event of floods such as checking flood risks online and signing up for flood warnings, and I would urge everyone to be proactive.
Taking steps to prepare for floods can reduce the chance of losing valuables. People can also plan who can support them or which vulnerable family members or neighbors may need help during the flood.
Advance planning for flood mitigation is essential. Research has shown that taking steps to prepare for floods can reduce damage to your home and property by approximately 40%.
This Flood Week (20-26 November), the Environment Agency is reminding people that to prepare for future floods, you should:
The Environment Agency continues its work to help communities become more resilient to extreme weather and rising sea levels. It has 250 large-volume pumps available and is ready to operate flood defenses and erect temporary barriers to protect communities where it can. It uses its flood warning system to alert 1.6 million properties directly when flooding is expected.
Around 3.4 million properties in England are at particular risk of surface water flooding, which generally occurs after heavy rainfall in urban areas, when water cannot drain or soak into the ground. It can happen very quickly and may be difficult to predict.
As only 30cm of flowing water is enough to float a car, drivers are warned to take extra precautions in wet weather and not attempt to drive through floodwaters.
To help protect yourselves, check flood risks online, sign up for flood warnings and find out what to do to prepare for floods.
Former AA Patrolman of the Year Tony Rich said:
As always in wet weather, leave plenty of space behind other vehicles and adjust your speed to suit the conditions, especially when approaching large puddles and dips in the road. If you can safely maneuver around a flooded area, we recommend that you do so as there may be a sinkhole or displaced drain cover lurking beneath the surface.

If there are diversions due to flooding, don't be tempted to ignore them as this is not only dangerous but can result in a hefty repair bill if water gets into your engine. Prepare for traffic delays by making sure to bring the essentials with you on your trip, even if it's short, like warm layers, hot drinks, and a fully charged cell phone.
The average cost of a home flood is estimated at around £30,000, and its mental health effects are long-lasting.
There are actions people can take to increase the resilience of individual properties alongside the work being done by the Environment Agency.
The Environment Agency and its partners Flood Re, a joint initiative between government and the insurance industry, are running the 'Be Flood Smart' campaign which encourages homeowners to adapt their homes with flood resilience (PFR) measures to better protect themselves from the impacts of floods. future floods.
Andy Board, CEO of Flood Re, said:
The aforementioned storms we have seen in recent weeks have highlighted the devastation that flooding can cause to families. With Property Flood Resilience's affordable, easy-to-install products, homes can be better protected from floodwaters, reducing the amount of time affected families have to spend away from their homes after a flood.

Adding measures such as self-sealing air bricks, check valves and flood doors, or making small changes to the home such as raising electrical sockets or using waterproof flooring, can reduce the cost of repair work by up to 73% after a major flood.

Last year, Flood Re launched the Build Back Better program to give flooded homeowners up to £10,000 to fit resilience measures into their homes so floods don't happen again. This Flood Week, it's important that every homeowner knows where they can access affordable flood insurance and support for building back better.
PFR measures reduce the risk of flood damage to individual homes, speed up repair work and help people return to their properties more quickly after a flood. They can include raising electrical sockets and white appliances away from floor level, installing self-closing air bricks and flood doors, and replacing flooring with waterproof tiles and plaster.
Research shows that PFR reduces the cost of repair work on properties by up to 73% after a major flood.