Free ice cream helps beat the heat and get back to school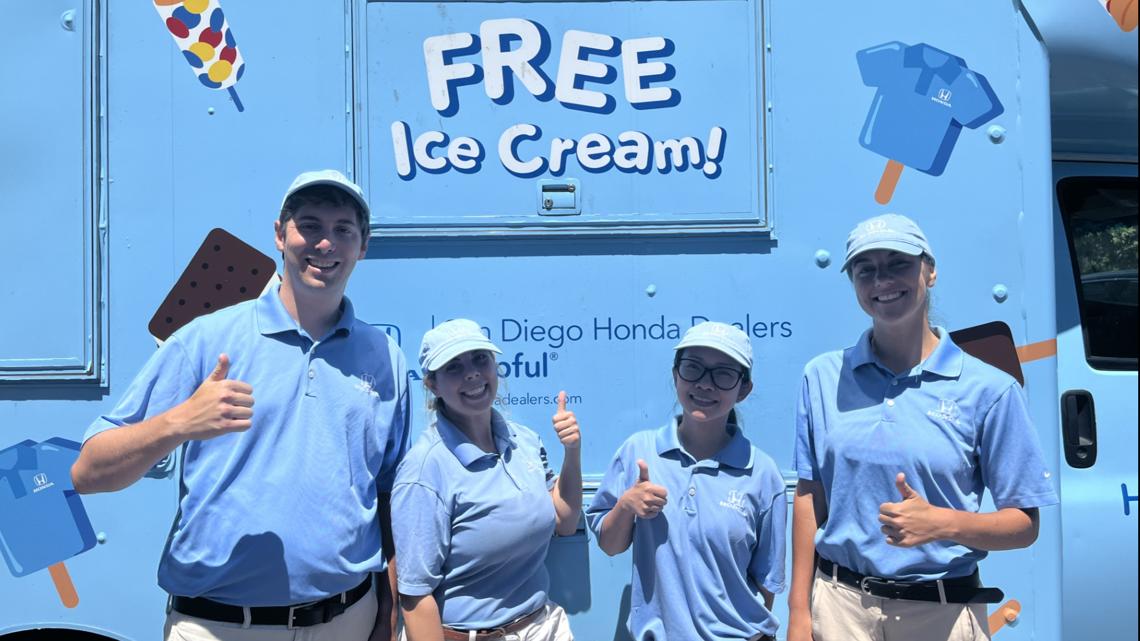 VISTA, Calif. – The Vista Library is beating the heat and back-to-school blues by offering free school supplies and ice cream.
In this Zeveli area, I followed a big blue truck full of delicious sweets to a long line of children.
At first glance at school supplies, you may start to see some sad faces. Summer flies by in the blink of an eye, but there's something about ice cream that makes everything better.
"Things moved too fast, too fast," Ashley Cerda said of her summer. She and her daughters, Selena and Cecilia, lined up with hundreds of families to receive free school supplies. "It actually helps us a lot because we're a low-income family, so for the library to do fun things like this is very helpful," Ashley said.
"Okay everyone, we're getting ready to get started," Jennifer Runge said.
Jennifer is the Youth Services Librarian at the Vista Branch Library in the San Diego County System. She had a special surprise for the kids around the block, but homework supplies had to come first.
"From pencils and pens to markers to rulers, scissors and notebooks," Jennifer said. Each student received a back-to-school goodie bag of 45 items. "I think this is essential for them. I think it takes the worry off of them, because they also have to buy new backpacks, new shoes, new clothes, and that's just one thing off their very long list." Jennifer said of the gifts from the Friends of the Vista Library.
At that point, the sweet little secret was out.
The Honda team attended with free ice cream for everyone. "Free ice cream what a treat," said one parent. "There you go," Carly Harris said. She and her San Diego Honda dealers have been a surprise to kids of all ages throughout the scorching summer in San Diego County. "We've gone to a family reunion, to a birthday party, the sky is really the limit. If you ask for it, we might make it happen," Carly said.
Suddenly, that frown turned upside down. "I think, 'I scream, you scream, we all scream for free ice cream,'" said a father named Keith Gaytan. The hot day was full of smiles thanks to a truck full of sweets to beat the heat. "Ice cream!" Honda's folks shouted helpfully.
The Honda Free Ice Cream Truck is filled with a delicious assortment of free frozen desserts including bombs, big dips, orange dream candy, fruit bars, ice cream sandwiches and more. Starting in July and continuing through the end of August, they will stop by various community activities, parks, sporting events and neighborhood gatherings to surprise kids of all ages with free ice cream. They receive requests from the public about where to go. Local residents are invited to connect on Facebook/SDHondaDealers for details about a special event or activity in your area where you would like to visit the ice cream truck.