Greta Thunberg shrugs off interruption in massive Dutch climate march – NBC Connecticut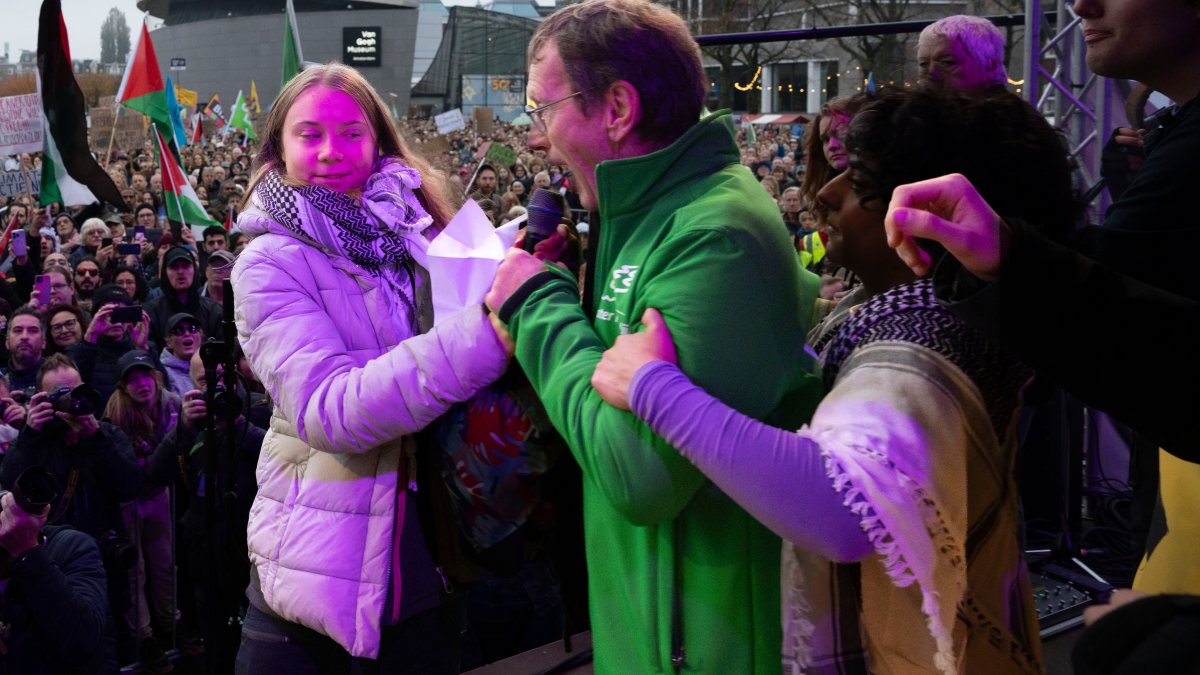 Climate activist Greta Thunberg was briefly interrupted on Sunday by a man who approached her on stage after she invited a Palestinian and an Afghan woman to speak at a climate protest in the Dutch capital.
Thunberg was speaking in front of a crowd of tens of thousands when she invited the women to the stage.
"As a climate justice movement, we must listen to the voices of those who are oppressed and those fighting for freedom and justice. Otherwise, there will be no climate justice without international solidarity," Thunberg said.
After the Palestinian and Afghan women spoke and Thunberg resumed her speech, a man came up to the stage and told her: "I came here for a climate demonstration, not for a political point of view," before being escorted off the stage.
The man's identity was not immediately clear. He was wearing a jacket bearing the name of a group called Water Natuurlijk that elected members to Dutch water boards.
The Afghan woman, Sahar Shirzad, told The Associated Press that Thunberg allowed them to go on stage with her.
"She basically gave us her time," she said.
Before Thunberg took to the stage, the event briefly stopped when a small group of activists at the front of the crowd waved Palestinian flags and chanted pro-Palestinian slogans.
She appeared undeterred and was later seen dancing behind the stage while the band played.
The incident came after tens of thousands of people marched through the streets of Amsterdam to demand more action to tackle climate change, in a massive protest just 10 days before the national election.
Organizers claimed that 70,000 people took part in the march, describing it as the largest climate protest ever in the Netherlands.
Thunberg was among those who walked through the historic heart of the Dutch capital.
Later, political leaders, including Frans Timmermans, the former EU climate chief, who is now leading the two-party centre-left bloc in the election campaign, addressed the crowd gathered in a square behind the historic Rijksmuseum.
"We live in a time of crises, all the result of political choices that have been made. This must be done and can be done differently," the organizing Climate Crisis Coalition said in a statement.
While the coalition included the Fridays for Future youth movement, the demonstrators were of all ages, and included a large contingent of medics wearing white coats and carrying a sign reading: "Climate crisis = health crisis."
"I'm a pediatrician. I'm here to advocate for children's rights," said Laura Sonnefeld. Children are the first to be affected by climate change."
Tackling climate change is one of the key policy areas for the political parties competing in the general election scheduled for 22 November.
"It's time for us to protest the government's decisions," said Margie Weiss, a Spanish teacher and youth coach. "I hope this will influence the elections."
___