Harvest Weather Forecast: Fieldwork Challenges for the Next 10 Days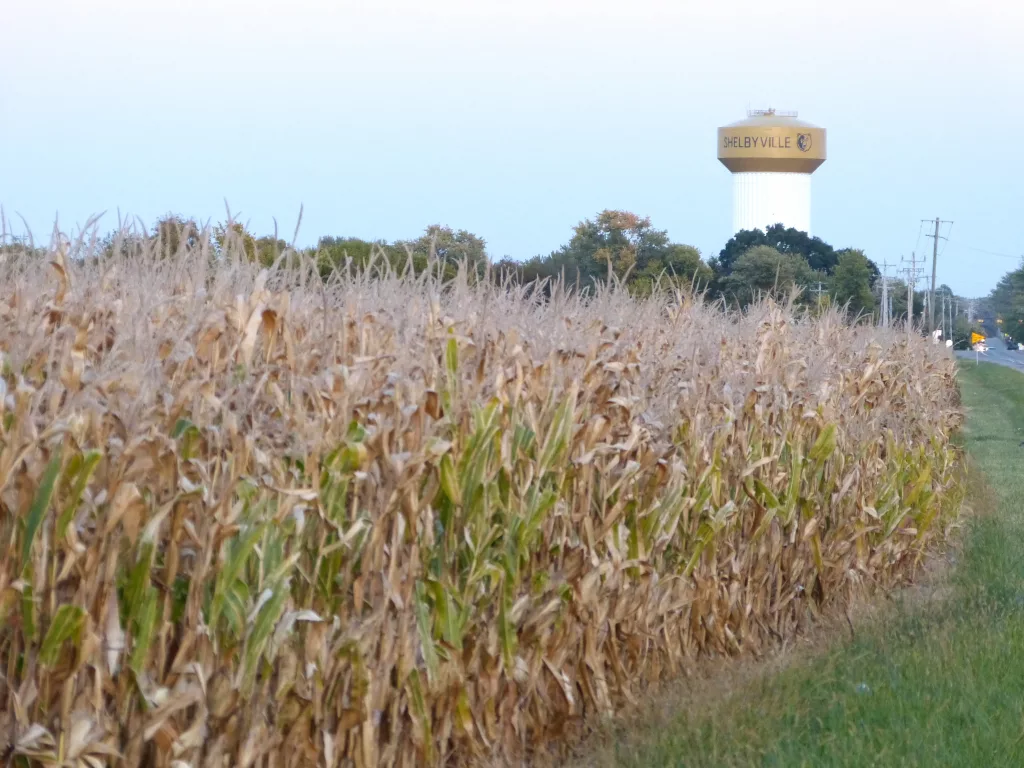 Harvest forecasts continue to present some challenges for field work over the next 10 days, but this forecast is not as wet as our previous forecast. We're off to a wet start, as the large frontal boundary complex will continue to move northeast through Saturday. We will likely see some persistent rain over Indiana, especially to the north, through Saturday. Additional moisture will be in the range of a few tenths, and central-southern Indiana will likely begin to dry out soon on Saturday.
A strong northerly flow will dominate from Sunday to Tuesday. These northerly winds coming directly over the Great Lakes will provide extensive "lake effect" cloud cover, and we can't rule out some scattered showers or sprinkles. However, most of this moisture will be in areas near or below lakes. Elsewhere, the cold temperatures will continue to dry out a little more slowly, but the winds will try to make up for the lack of evaporation potential a bit.
Wednesday, it will be partly sunny and warm. However, our next front is on the move. It will arrive Thursday with scattered rain. This front is much less significant than the last front… and as such expect only a few hundredths to 0.4 inches with 60% coverage.
Behind the front on Friday, we cleared the northern part of the state. However, we see a low developing over the MO Valley on Thursday with moves into the OH and TN valleys Friday into Saturday. It has a clean path of moisture away from the Gulf, so we have a risk of rain to the south and southwest around midday Friday and afternoon.
The low rises to the northeast and could bring showers to the east and into the northeast and all of Ohio overnight Friday night and Saturday. The chance of precipitation appears to be between 0.25 to 0.75 inches with up to 60% coverage of Indiana, but that coverage is limited, at least for now, to the areas we mentioned. The north-central, northwest and west-central areas will likely not see any rain on the current track, but we continue to see it. The map below is a raw snapshot of the system's path and moisture potential.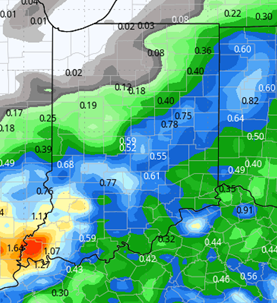 That moisture will be there to start the weekend on the 21ststreetbut we quickly exit to number 22Second abbreviationStay sunny and dry for the first two days of week 23Research and development.

Extended period:
The 11-16 day forecast window is dry on this new look. This will allow us to see a good harvest window from the period immediately following the Ohio Valley system onward. Although we will be dry, we will only be seasonal in temperatures…which means we are cooler, and the drying may be a bit slow to begin with, depending on which locations see precipitation totals next Friday and Saturday.
Weeks 3 and 4:
Rainfall continues to appear near normal through the third and fourth weeks, however we are trending toward a slightly drier week in the third week of an 11-16 day drought trend. The Ohio Valley and Deep South look wetter in the fourth week, and that could set the stage for a slightly wetter pattern from the south through the second half of November. Temperatures remain slightly above normal (one or two degrees) on a weekly average until mid-November.
Week 3
Precipitation (green: above normal, brown: below)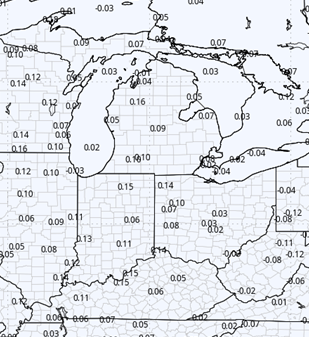 Temperatures (blue: below normal, orange: above)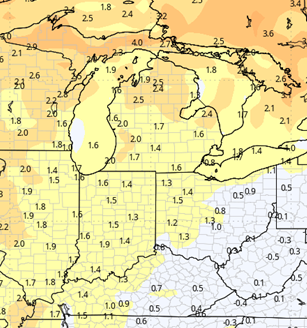 Week 4
Precipitation (green: above normal, brown: below)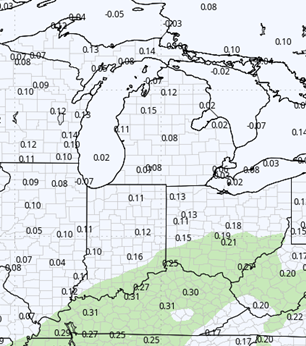 Temperatures (blue: below normal, orange: above)