Hurricane Ian updates, radar and maps: Latest forecast and likely path after flooding Florida and South Carolina
Georgetown, South Carolina – Hurricane Ian has made landfall again, after making a devastating impact on southwest Florida and western Cuba earlier in the week.
It was downgraded to a post-tropical cyclone hours later.
Ian made landfall as a Category 1 storm at 2:05 p.m. ET Friday near Georgetown, South Carolina, with sustained winds of 85 mph, according to the National Hurricane Center.
By 11 PM ET Friday, wind speeds had dropped to about 50 mph as the tropical cyclone continued to move north along the East Coast. Heavy rain is expected to continue in the Mid-Atlantic and Northeast states through Saturday morning.
Major cities along the East Coast from Washington, D.C., to New Haven, Connecticut, are expected to see 3 to 6 inches of rain on Saturday.
Ian made its first landfall in Cuba as a Category 3 storm early Tuesday, reaching the western tip of the island.
After passing through the Gulf of Mexico, it made landfall again along Florida's southwest coast Wednesday afternoon as a Category 4 storm, the National Hurricane Center said. Landfall was near Cayo Costa, an island off the coast of Fort Myers, and then the deadly storm moved across central Florida.
After being briefly downgraded to a tropical storm, Ian reverted to a Category 1 hurricane as it moved off the east coast of Florida into the warm waters of the Atlantic Ocean toward the Carolinas.
The expected path and the spaghetti model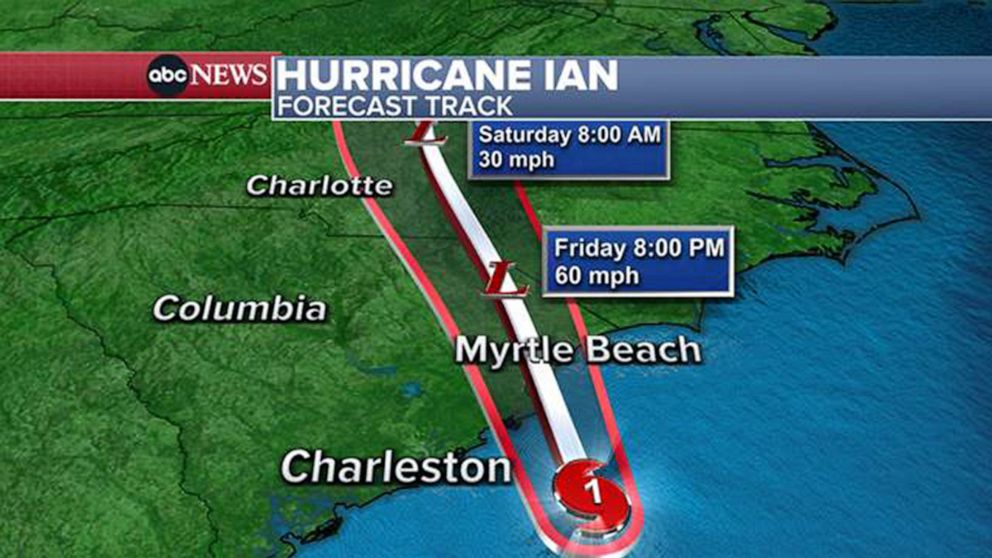 Ian is expected to weaken quickly, although it will bring the risk of heavy rain and flooding to the mid-Atlantic.
The weather alerts extend across four states, from Florida to North Carolina. A hurricane warning has been issued for the entire coast of South Carolina and the southern coast of North Carolina, including Wilmington.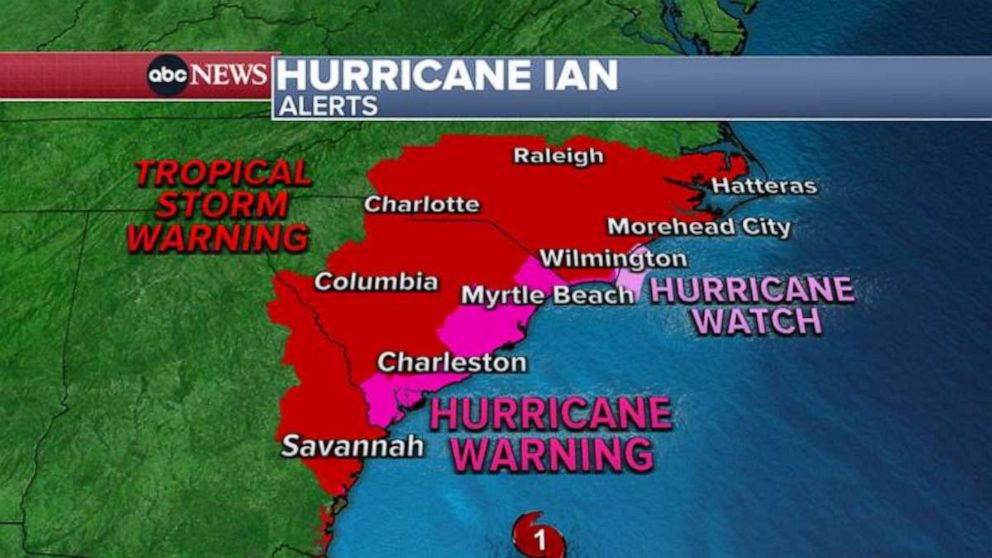 A hurricane watch is also in effect for parts of coastal North Carolina.
Storm surges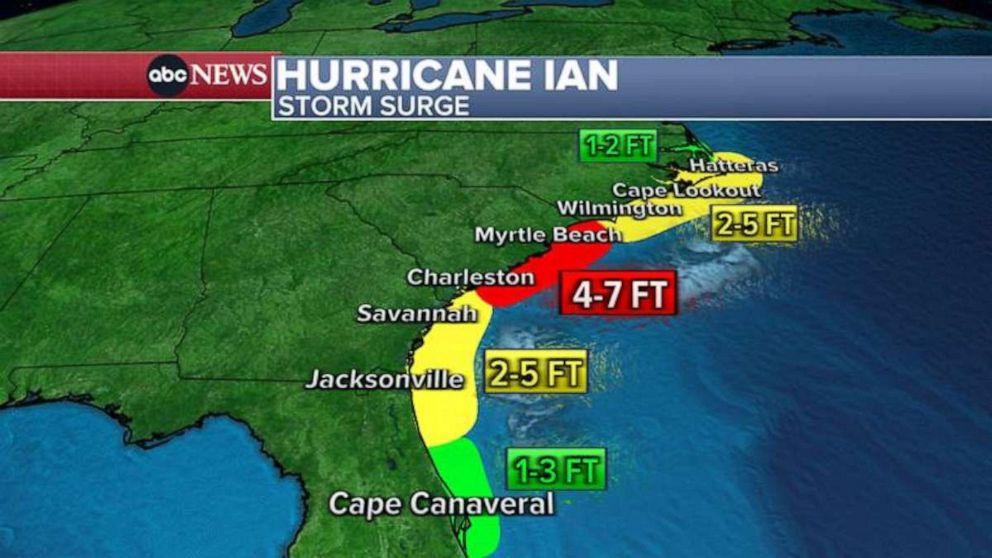 Southwest Florida has seen catastrophic storm surge, and life-threatening storm surge remains a risk as Ian moves north. Charleston, which is at the center of the storm's next landfall, could see a storm surge of at least 7 feet.
Rainfall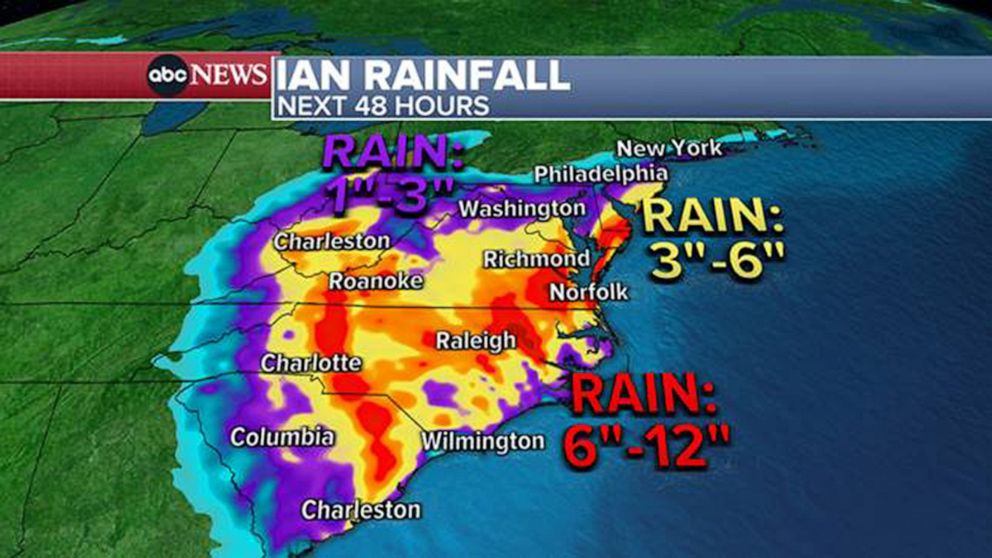 Reported rainfall exceeded a foot in many communities in Central Florida, with some seeing up to 2 feet. Flooding remains a risk as Ian moves north, with up to 12 inches forecast from Charleston to the North Carolina border.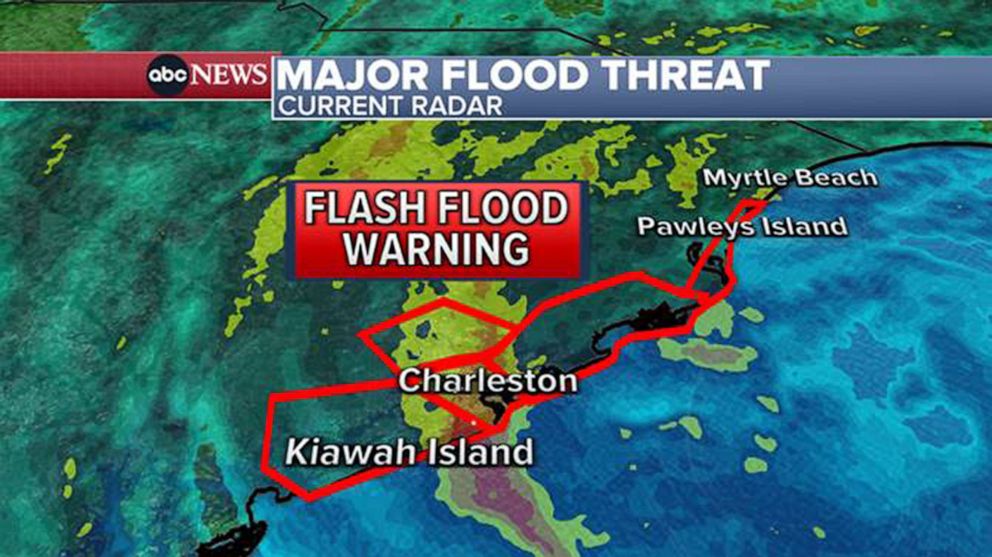 Up to 6 inches is also possible in parts of the Carolinas.
Some heavy rain will hit Philadelphia and the New York City area by Saturday morning, with 2 to 3 inches of rain possible locally.
Hurricane threat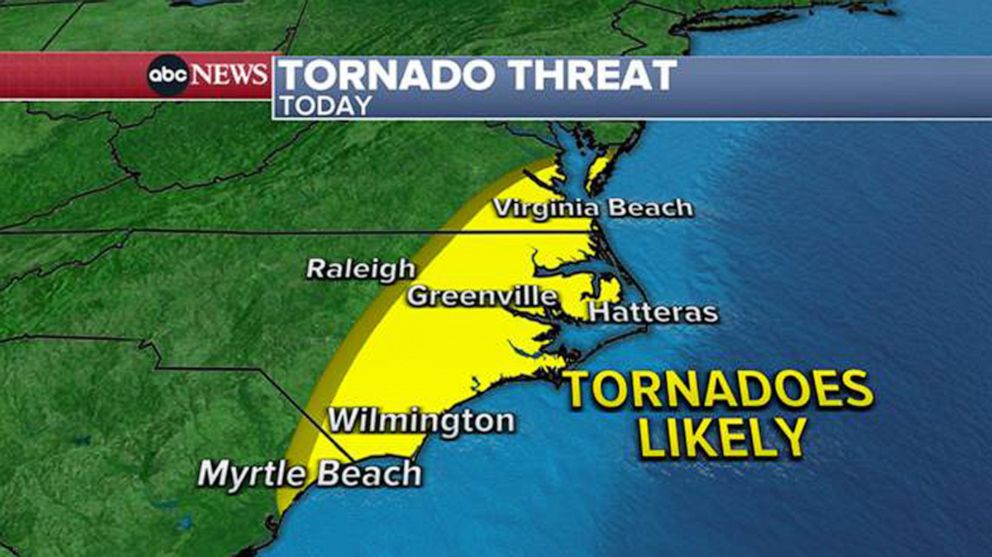 Tornadoes are also possible when Ian makes landfall. A hurricane watch is in effect from Myrtle Beach, South Carolina, to Virginia Beach, Virginia, until 10 p.m. Friday.
High winds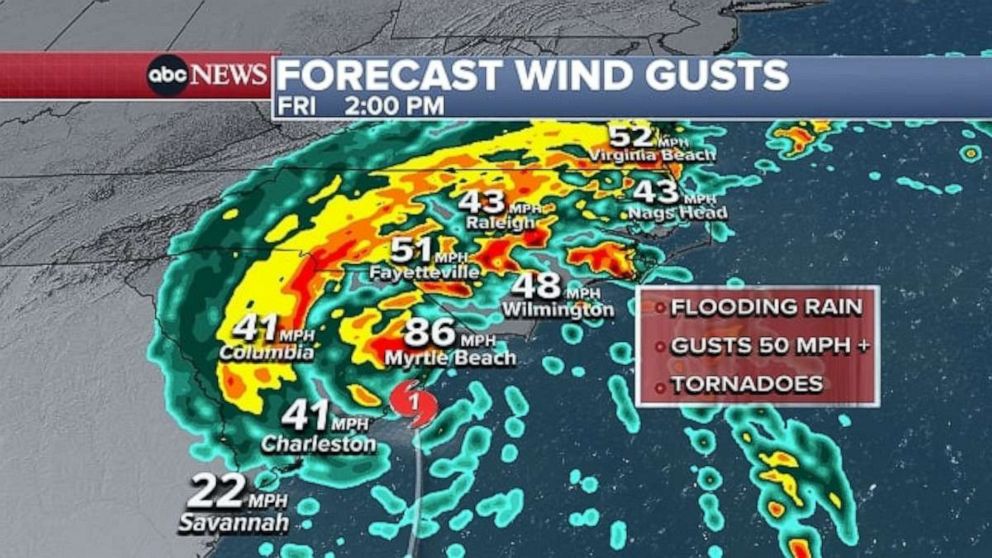 ABC-owned television stations contributed to this report.
(tags for translation) Track Ian