It's snowing and cold in Colorado this week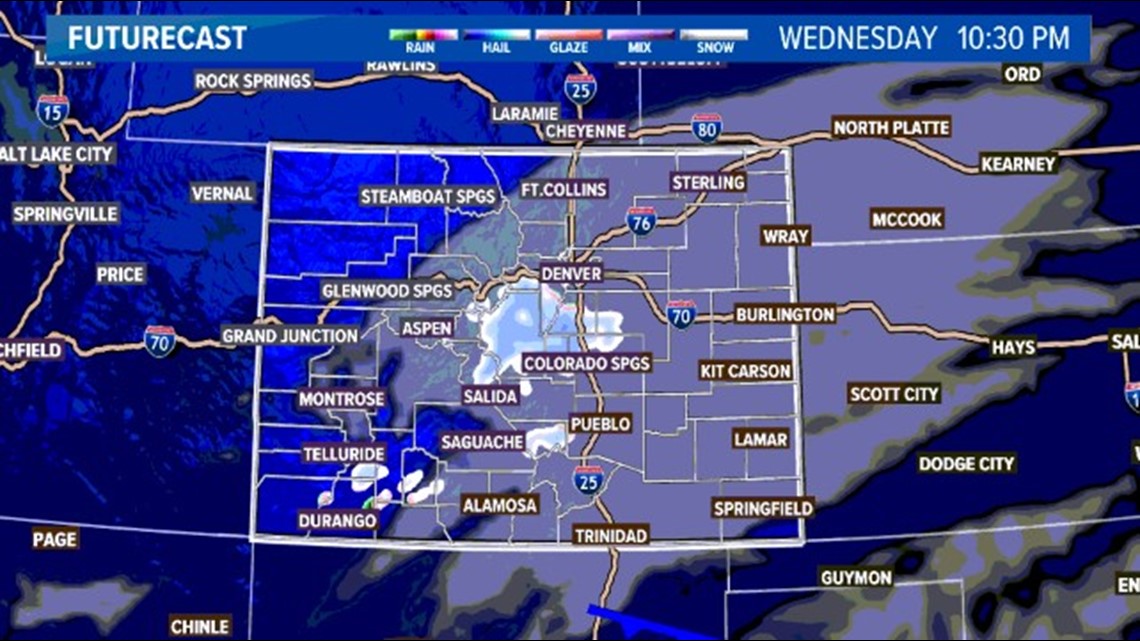 DENVER – After an exceptionally warm start to the week, temperatures will drop later this week, with some snow likely in parts of the Denver area.
While this storm doesn't look nearly as impactful as the October 28-29 blizzard that brought 7.5 inches of snow to Denver, the higher foothills could see a few inches accumulate Wednesday night and Thursday morning.
A strong cold front will move through Colorado late Tuesday night or early Wednesday morning, and that front will drop high temperatures in Denver from the low 70s on Tuesday to the upper 40s on Wednesday.
Once the front moves in, rain and snow showers will gradually develop during the day Wednesday around the Denver metro area. Any rain should turn to snow fairly quickly Wednesday night, with 1 to 5 inches of snow likely in the foothills and along the Palmer Divide, generally above 6,000 feet.
Expect road impacts to Interstate 25 on the Palmer Divide area — think Monument Hill — and Interstate 70 along and west of Lookout Mountain Wednesday night into Thursday morning.
In Denver, dust accumulation is likely to reach an inch or two. The west and south sides of the metro area will likely see higher amounts, with little, if any, accumulation on the north and east sides of the city. Once again, the Denver area will likely see snowfall Wednesday afternoon and night.
In the mountains, heavy snow is likely to fall throughout most of Wednesday and into Wednesday night. Some mountainous areas could see accumulations of up to 1 foot, although most mountainous locations will see less than that. Areas east of the Continental Divide and above 8,000 feet will be the most favored for higher accumulations – and higher snow and ice impacts.
Temperatures will be the other big story in this week's system, as temperatures will rise from the 70s in Denver on Sunday, Monday and Tuesday into the 40s by Wednesday and Thursday. Night temperatures may drop to 20 degrees on Thursday morning.
Highs are rebounding very quickly, though, with highs back in the 50s in Denver by Friday and likely reaching the 60s next weekend.
Suggested videos: Colorado climate