Kentucky Derby, Preakness winner Funny Cide is remembered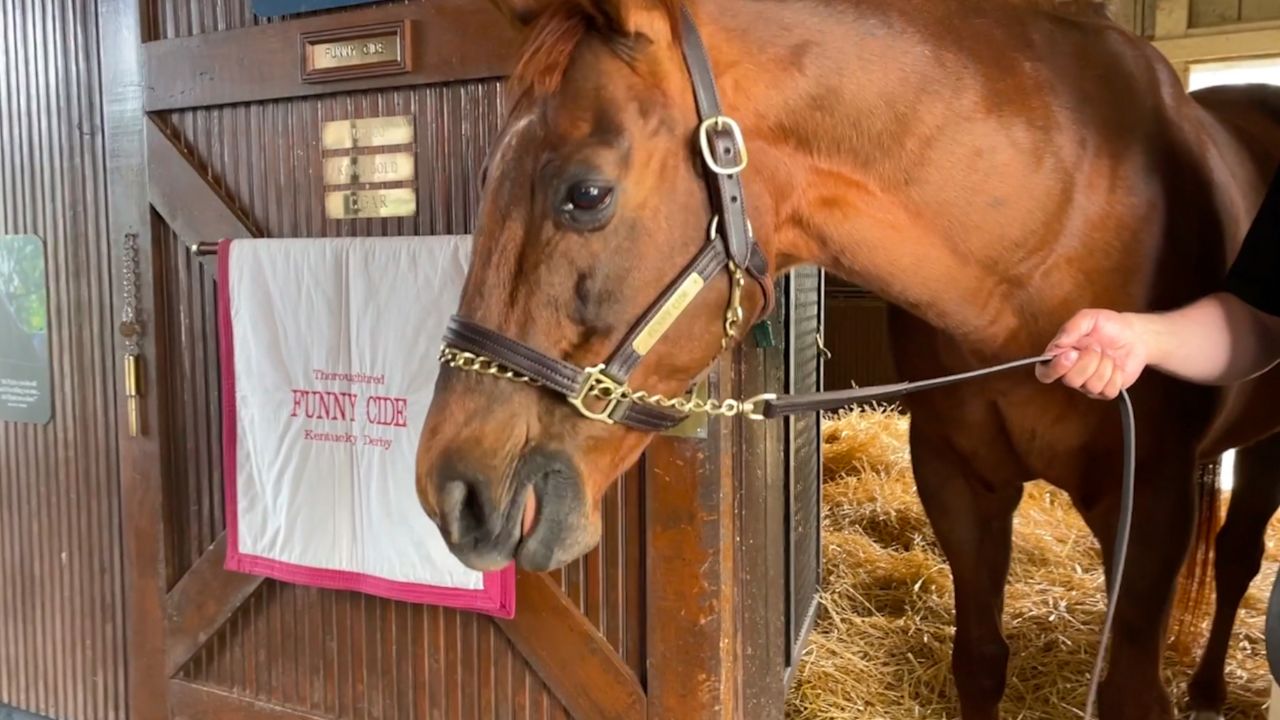 Inside Jack Knowlton's office in downtown Saratoga Springs, there's no shortage of photos from one of the wildest rides of his life, thanks to a horse named Funny Cide.
"I've probably watched the race 100 times, 200 times, I mean it never gets old," said Knowlton, managing partner of Sackatoga Stable, which owns Funny Cide. "At about the 16th pole, I was chanting to my wife, 'We're going to win the Kentucky Derby.'"
This plucky horse, with odds of 12-1, became the first New York-bred horse to win the Run for the Roses in 2003 with jockey Jose Santos. Funny Cide followed that up with a win in the Preakness Stakes before coming close to the Triple Crown and finishing third in the Belmont Stakes.
Funny Cide died over the weekend at the age of 23 at the Kentucky Horse Park, where he was retired.
"Knowing the impact he had on so many people, not just the racing people, I mean the general public who fell in love with horse racing because of him, it gives us a lot of gratitude for what he accomplished," Knowlton said.
He was one of 10 partners with Sackatoga Stable at the time. On Sunday morning, he received the news that the horse that captured the hearts of fans around the world had died due to complications from colic.
"It was sadness," Knowlton said. "I mean he did a lot for me personally and for Sacatuga Stables."
"At first I thought, 'Oh my God, I thought he was going to live to be 30,' and he did," said Robin Smolen, assistant trainer at Barclay Tagg Racing Stable. "But nothing lasts forever, and he lived a really good life after he left us."
Smolen and Barclay Tagg trained Funny Cide. At first, Tagg overlooked the testicle operation. But after some practice, he saw the potential. Tagg did something he almost never does: bet on the Kentucky Derby.
"I never bet," Tagg said. "And I haven't bet since."
"Barkley has bet twice in the 27 years I've known him," Smolen said. "This and again."
Funny Cide rewarded him with a few hundred dollars and his first Triple Crown race win. The couple says his toughness made him an iron horse, making their journey together difficult but enjoyable.
"He was a big, strong, strong horse, and you had to be strong to ride him, strong to carry him, strong to do anything with him," Tagg said.
Funny Cide's success put New York's breeding program on the map. Additionally, he became the face of Sackatoga Stable, helping it attract nearly 100 owners today. The 2003 Kentucky Derby winner created memories and impacts that are still felt.
"This is the be-all and end-all of thoroughbred racing," Knowlton said, referring to the Kentucky Derby. "There's one every year, you only get one chance. So to be able to say at that time there were 129 clubs, so I think there are now 149 clubs, it's a very select club.
(Tags for translation) Saratoga Race