Maryland Weather: The cold will ease late this week, with rain on Friday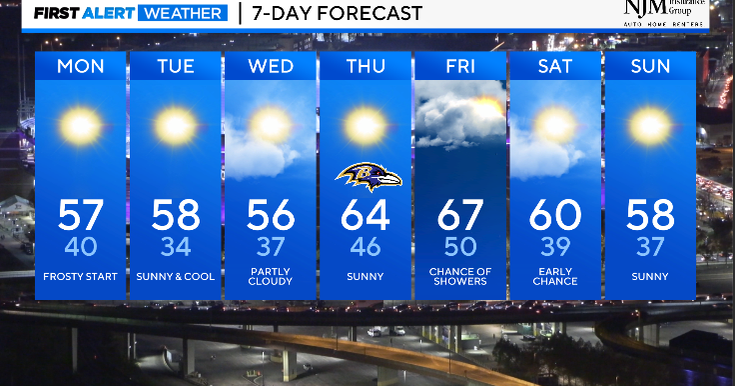 Baltimore -The weather is expected to be cold tonight through early Monday. The cold will ease later this week with rain returning to the region on Friday.
The skies cleared Sunday afternoon giving us a few hours of sunshine. Temperatures reached the low 50s. With clear skies tonight and high pressure, we will see temperatures quickly drop into the 20s and 30s as lows for the night. Widespread sleet and freezing conditions are expected throughout the night in and around Baltimore. You may want to give yourself a few extra minutes to scrape the windshield early Monday morning.
Monday will start out cool with widespread temperatures in the 20s and 30s, but we will see a nice rebound in temperatures during the afternoon hours. With increasing sunshine on Monday, high temperatures are expected to reach the middle and upper 50s.
We will witness high pressure controlling our weather until Thursday. This means we will see cool to cold mornings with a nice rebound in temperatures during the afternoon hours each day. Highs Monday through Wednesday will reach the middle to upper 50s. Thursday we will see a batch of milder air as temperatures return to the mid 60s.
The weather Thursday evening is looking great for the Ravens' game at M&T Bank Stadium. We will see temperatures comfortably cool in the low 50s for the 8:15pm start of the game against the Bengals. Skies will remain mostly clear with a southwesterly breeze at 5 to 10 mph.
Our next chance for rain returns to the area on Friday during the afternoon and into Friday night as a strong cold front approaches from the west. Rain is desperately needed across the state with annual rainfall deficits ranging from about 7 inches below average in Baltimore to nearly 12 inches below average across parts of the Eastern Shore. Right now, overnight and Friday rainfall totals should remain below a half-inch, but we will continue to monitor the forecast for any potential changes.
It looks like the weather next weekend will dry out and get cooler with winds shifting to the northwest and north. We will see the weather start to dry out during the day Saturday with highs in the upper 50s to near 60. Sunday looks like another winner on the day with sunshine and highs in the upper 50s.
A stormy weather pattern may develop during Thanksgiving week. This will not only be the case here, but in most parts of the country. We will continue to adjust expectations as we head into next week with the upcoming Thanksgiving holiday and travel around.