Maryland Weather: Warm afternoon, up and down through Friday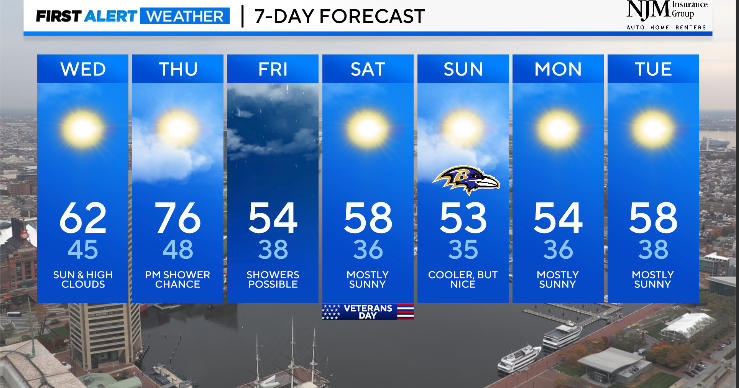 Baltimore -Temperatures warm into the mid 70s this afternoon. Temperatures will continue to rise and fall through Friday, which will be followed by a cool and dry weekend.
Despite the clouds, we have unseasonably warm weather in the forecast this afternoon. Temperatures will continue to rise into the lower and middle 70s. The abundant cloud cover earlier in the day will thin out as we head into the mid to late afternoon hours, so some sunshine is possible before sunset at 4:59 p.m.
A westerly cold front will cross the area during the overnight hours, but until then conditions will be mild this evening. Temperatures will remain in the 60s into the late evening hours. Overnight temperatures will settle into the mid 40s outside the Beltway with some upper 40s inside the Beltway.
Wednesday looks to be a nice day behind the cold front. While temperatures will not be as warm as Tuesday afternoon, we are still looking at an above average day. Highs reach the lower 60s. Expect sunshine amid high clouds throughout the day on Wednesday.
Thursday will be the warmest day next week with temperatures in the mid to upper 70s. A strong cold front will pass through the area late Thursday, accompanied by a chance of rain showers. The cold front will continue to push south Thursday night into Friday, but an additional round of rain is possible Friday, especially across central and southern Maryland Friday afternoon. Friday temperatures will be cooler with highs up to 20 degrees cooler than Wednesday in the mid 50s.
Here is the schedule for the possibility of rain from Thursday to Friday:
The cold weather will continue late Friday through the weekend and into early next week.
The weather next weekend looks good for both Veterans Day and a Ravens game. Expect bright skies, but a cold feeling. You'll need a heavier jacket or coat all weekend long with morning temperatures in the 20s and 30s and afternoon highs only in the mid 50s. Across Western Maryland, the weather will be much cooler with weekend days only in the mid 40s.
Dry and cold weather will continue into the start of the next work and school week on Monday.