Maryland Weather: Warmer…rain expected Friday night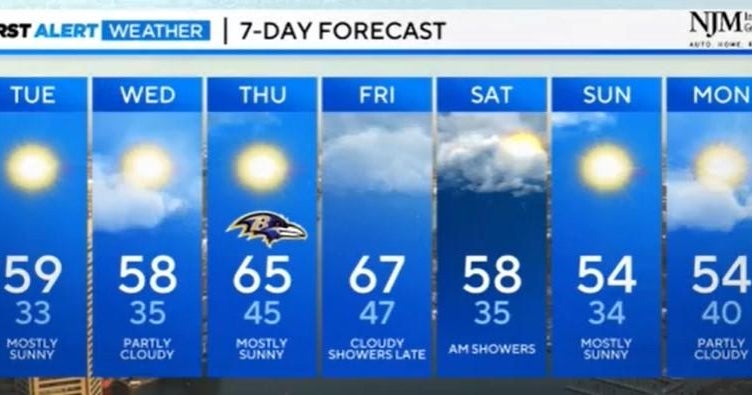 Baltimore – High pressure is gradually moving towards the central Atlantic coast today, while a low pressure system in the southern part of the country is affecting the Gulf Coast countries.
In response, high clouds will drift over the area, but they will be relatively thin, letting in some filtered sunlight. Light southerly winds around the departing high will bring slightly warmer temperatures this afternoon, with highs in the upper 50s to mid 60s in most areas.
Tonight, high pressure will remain close to the area allowing for another cold night. A light southern breeze is expected to blow in some areas, while protected areas will witness calm winds.
Low temperatures will vary widely, from the upper 20s to lower 30s in cooler rural valleys to the middle and upper 30s in most other areas. Baltimore, as well as areas near the Patapsco River and Chesapeake Bay, will see lows in the lower to middle 40s.
The temperature difference between areas with calm minds and those with a light southern breeze can reach 15-20 degrees.
On Thursday and Friday, high pressure will remain offshore with dry and sunny conditions remaining. The southerly flow will continue, bringing warmer afternoon temperatures in the 60s, perhaps near 70 in some areas.
Thursday will be mostly sunny, with less cloud cover than we see today. On Friday, clouds return to the area in the afternoon.
Thursday night will be milder than recent nights due to southerly flow, with lows in the upper 30s to mid 40s. A cold front will approach the region from the west but will remain far enough away from the region that the outlook will remain dry.
Increasing moisture will bring more clouds and possibly a little rain, especially in western Maryland Friday afternoon. The cold front will increase the chances of rain on Friday night as the front approaches, but rain amounts should be light.
Overall the weekend looks good. There will be a chance of early rain on Saturday, otherwise skies will be clear during the day. Any remaining rain should disappear early Saturday morning as a cold front moves off the coast. Sunday will see full sunshine all day.
Gusty northwest winds are expected to reach around 20-25 mph Saturday afternoon, possibly continuing into Sunday. Expect highs in the 50s and lows in the 30s.
The next chance for rain is around Tuesday and Wednesday, with a fast-moving storm approaching. This may cause some travel issues for those looking to start traveling for vacations.
At this time, it looks like the rain will stop early Wednesday with dry weather for Thanksgiving and Black Friday.