More than 80 million Americans remain under heat warnings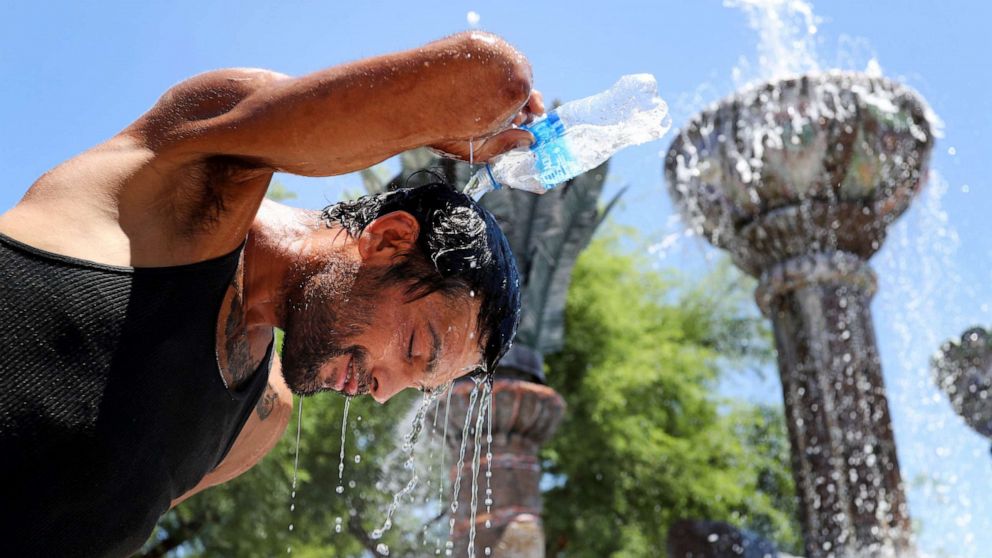 Temperatures are expected to reach triple digits across much of the Southwest on Saturday.
More than 80 million Americans remain under heat warnings as hot conditions continue to be widespread and dangerous.
High temperatures are expected to reach triple digits across much of the Southwest on Saturday afternoon. Excessive heat warnings are in effect for cities like Phoenix, Las Vegas, Salt Lake City and Palm Springs, California.
Phoenix is ​​expected to see its 23rd straight day with temperatures above 110 degrees on Saturday. Friday marked the fifth day in a row in which temperatures exceeded 115 degrees in the city, approaching the record set six days ago, as temperatures are expected to approach 115 degrees on Saturday. As the temperature dropped to 96 degrees Saturday morning, the city had not dipped below 90 degrees for 13 straight days.
Las Vegas is expected to see temperatures of at least 110 degrees for the ninth day in a row on Saturday, approaching the 10-day record set in 1961.
High temperatures in Palm Springs are expected to approach 120 degrees on Saturday, which will set a new record for nine consecutive days of temperatures of at least 115 degrees.
El Paso, Texas, saw a record 36 consecutive days of temperatures reaching at least 100 degrees; Saturday may be the 37th, but it will be a close call as the brief heat relief settles in this weekend. Highs are expected to max out in the upper 90s. However, by Monday, highs are expected to return to triple digits.
From Texas to Florida, a combination of hot temperatures and extremely humid conditions pushed heat index values ​​to dangerous levels Saturday afternoon. The heat index is expected to reach 105 degrees along the coast, with some locations approaching 110 degrees.
Miami had felt a heat index of at least 100 degrees for 42 days in a row as of Saturday, continuing the record it broke a week ago.
Unusually warm waters in the Gulf of Mexico and western Atlantic contribute to persistent, oppressive humidity and limit overnight cooling.
A heat warning is also in effect for parts of Northern California, Idaho and Montana. High temperatures Saturday afternoon are expected to approach 100 degrees, possibly reaching as far north as Montana into South Dakota and Minnesota.
Meanwhile, severe thunderstorms are possible through Saturday night across parts of the Central Plains and Southeast, including cities like Baton Rouge, Louisiana, and Jacksonville, Florida. A Severe Thunderstorm Warning has been issued until 7 PM Central Time along the northern Gulf Coast, from Mississippi to northern Florida.
The primary risks from any severe thunderstorms passing through are strong, potentially damaging wind gusts and large hail. The tornado threat is very low. Any stronger, slow-moving thunderstorms that bring heavy rain can also trigger flash flooding in areas where heavy rain falls and cause frequent lightning.
ABC News' Kenton Gewick contributed to this report.