Nearly a hundred years of North Park history, gone in one hour – NBC 7 San Diego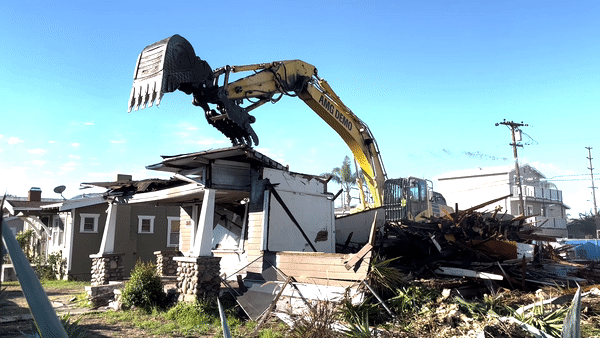 Demolition of six homes, some nearly 100 years old, in the heart of San Diego's North Park community began Tuesday morning.
Within an hour or so, by 8:30 a.m., two of the buildings had been demolished.
Church Makers, which owns the 35,000-square-foot property, plans an extensive renovation of the main campus with the money from the sale.
Makers Church, which occupies the space formerly known as North Park Baptist Church, has hired AMG Demolition to demolish six Craftsman cottages, at least one built in 1926, and other buildings in preparation for the transfer of ownership to an undisclosed party.
On Monday, R. Kit Barmeyer, managing director of the "fully integrated real estate firm" CedarSt of Chicago, which states on its website that it is engaged in "creating big style in smart spaces," told NBC 7 that it is "involved" by Makers Church. To facilitate the demolition of buildings they own, to promote improvements to their campus.
On Tuesday, Makers Church's pastor, Derek Miller, told NBC 7 that CedarSt has been hired for the role "at this stage of the project." "Other than that, you know, I can't really speak to much more than that," he demurred when asked if the company would be involved in other parts of the project, which the church described in a press release last week as including "a mix of affordable housing options." "
Jessica Wagner, a critic of the project and a North Park resident, told NBC 7 last week that she met with Miller and others to discuss the changes in her neighborhood. She showed meeting attendees a photo she said was originally posted on CedarSt's website (since deleted, Wagner told NBC 7) that showed an eight-story glass and metal structure with a pool and rooftop deck, among other elements. Wagner, who is affiliated with a website called Stop Makers Church, said church representatives confirmed that the photo was in fact a presentation of the project as they understood it. Miller confirmed on Tuesday that he had met Wagner but denied showing him the photo or confirming what it was. In fact, he told NBC 7 he had never seen the photo before seeing it on a website opposed to the project.
NBC 7's Janet Quezada explains why there are six vacant homes at the heart of a neighborhood dispute in North Park.
Miller said that other than meeting with Wagner and a few other residents who were upset about the project, church officials, who, according to Miller, "ultimately want very much to be good neighbors," have not communicated with the community regarding the project other than internal discussions with the congregation Church of Makers.
"…We've certainly met with the congregation and talked about it in all kinds of different vision meetings and things like that, but we haven't had any public conversations about the plan at all," Miller said.
However, Miller discussed the project in part on Tuesday, if not in detail. For one thing, he said, church officials pursued a buyer who was committed to including off-street parking in the project, which is not a requirement in the city's new Complete Communities program.
"We know this will have a huge impact on the neighborhood," Miller said. "So we found a buyer who was willing to provide parking, and we left a significant amount of money on the table because of that requirement, but for us, that was an important part of why we felt like we could be good neighbors in this whole deal."
Makers Church plans to use funds generated from the sale of the adjacent 35,000-square-foot Bancroft Street property for repairs and renovations to the church's main facility across North Park Way.
"I don't have a specific number for that, but we anticipate it will be several million dollars to do the extensive work that needs to be done," said Miller, who hopes to build the church, which "the majority of people" rely on. The proceeds from the sale will be spent, and will be completed by early 2025.
No matter what happens with the soon-to-be-vacant lot across the street, Makers Church is looking forward to finding ways for its congregation of 400 or so parishioners, about half of whom Miller said live in North Park, to connect with their community.
"One of the things we took to heart when we were kind of envisioning our new future with a renovated building was centered around the question, how can we leverage the facility that we have for good in the neighborhood?" Miller said.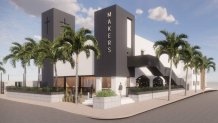 In addition to religious services, Miller said two ways to connect with North Parkers are by having an event space inside the church, which the community can rent, as well as an on-site café.
"We have a front door that we can open seven days a week, and we looked around at that little part of North Park and realized it wasn't saturated with coffee and that it would be something we could use our building for all the time." "A week that will be a blessing for the neighborhood," Miller said. "That's what inspired that. We're definitely interested in using the building seven days a week for the benefit of the neighborhood. So coffee is one of those ideas."
(tags for translation)North Park