New faces heat up the final photo of the Men's 200 A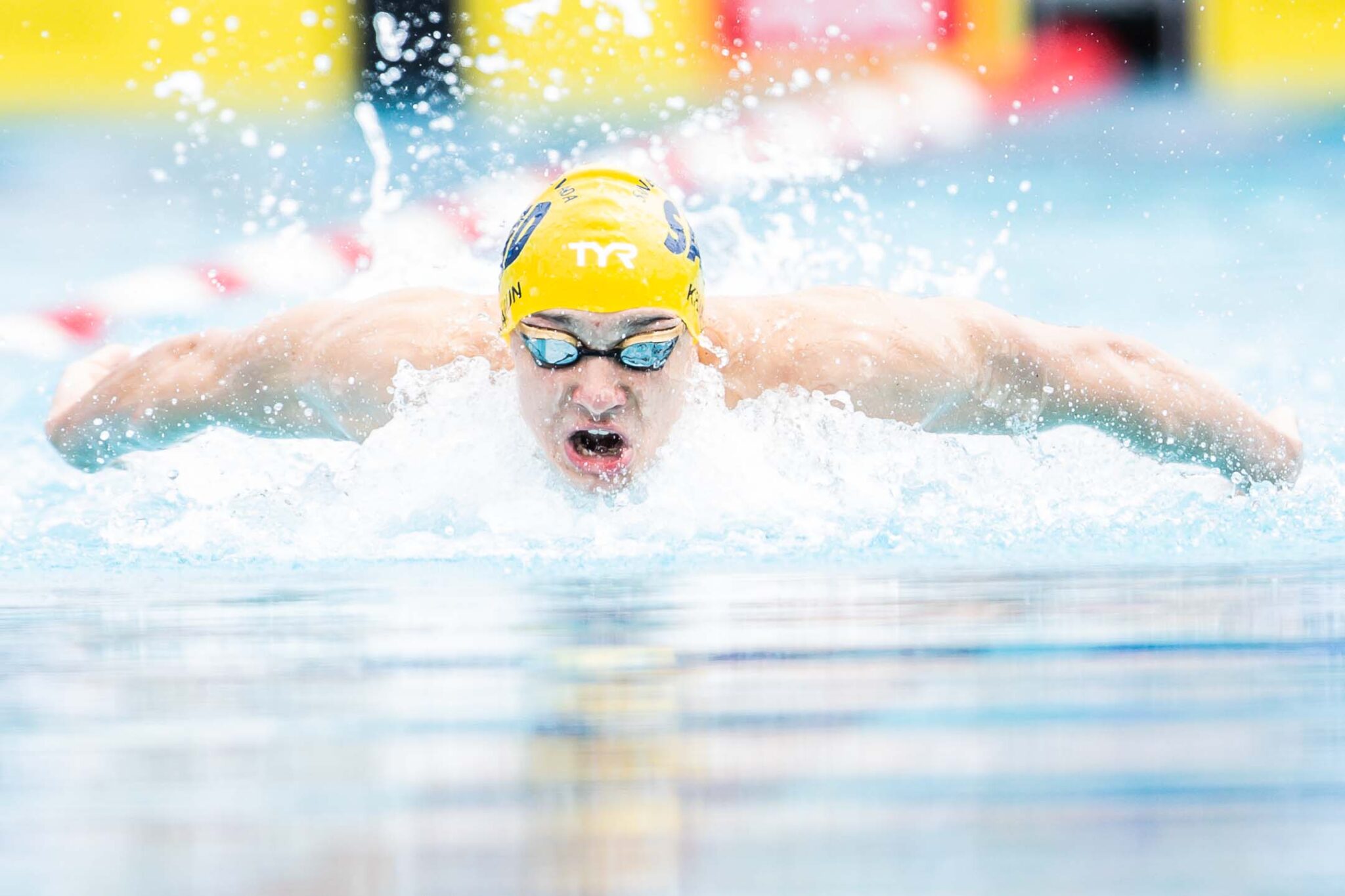 We're back for Week 7 of our 2023-24 NCAA Weekly Recaps. In this edition, we track the men's 200 fly and Division I women's distance, both of which look like they will be close races in March. We also get a quick look at some of the D3 events, as there were plenty of big swims there. Finally, we got some quick results from around the NCAA, including checking out some undefeated mid-major teams.
Show 200 flyers for men
Heading into the dual meet between USC and ASU, one of the most anticipated events was the men's 200 fly. We didn't get a yardage contest between the world gold and silver medalists, but it was still an exciting race led by the silver medalist Krzysztof Chmielewski And he won fourth place Elijah Kharon.
Both are freshmen who have had an exciting start to the season: Kharon has been excellent across the air, and Chmielewski is a big part of the electrification of USC's roster. This weekend, Kharon beat Chmielewski to a new PB of 1:40.07 to Chmielewski's 1:41.20. Now, the two are ranked No. 2 and No. 3 in the NCAA this season, behind only Kharon's Sun Devil teammate. Leon Marchand.
Preseason, the men's 100 breast was the most widely held open event for the 2024 NCAAs. To be clear, that's still the case, but the 200 Fly is shaping up to be quite the race. The entire "A" final returns, including the final two champions Aiden Hayes (2023) and Brendan Burns (2022).
But the appearance of Kharon and Chmielowski complicated matters. It's November, and they've already confirmed that they're a major title threat come March. Neither of them appear to be particularly close to the ceiling. Kharon has seemingly gotten better every time he has played with the Sun Devils. Chmielewski is new to the arenas and is adapting quickly. He's also been dealing with brutal dual meet combinations that include the 500 free, 1,000 free, 200 fly and relay. What will he be able to bring to the table in a championship meet format?
They're not the only freshmen making waves at the event. UNC Sebastian Soft He made a big swim in the Tar Heels Dual against South Carolina. Lunak is part of a freshman class that has great potential for UNC. In the duals, Lunak swam a personal best of 1:43.24 which is now ranked fifth in the NCAA. Like Chmielewski, Lunak is an international recruit – he is Czech – and this was only his third time swimming in the event.
Another person to keep an eye on is Jake Magahi. Magahey has made significant improvements in the event this season. In Georgia's meet against NC State and Duke, Magahi swam a 1:43.88 PB. Before September, he had not recorded an official swim since 2019. But he has now competed in the race three times this season, swimming a PB each time. Magahey has gone with a 200-500-1650 free combination at the NCAAs, but is it possible we could see him take a 200 fly/1650 free double on Day 4 of the NCAAs?
The women's distance continues to roll
A few weeks ago, Claire Tuggle And Emma Wyant He threw some fast in his early season 500 freestyle. This weekend, it was her time to shine in the 1000m freestyle Erica Sullivandeniz ertan, And Hayden Miller He placed top three times in the NCAA.
Sullivan took first place thanks to a 9:31.77 time in a tri-meet between Texas, Texas A&M and Georgia Tech. But it's the timing of Ertan (9:33.07) and Miller (9:33.45) that catches my attention as they both moved on this season. Ertin transferred from Georgia Tech to Arizona State University, while Miller remained at the SEC by transferring from Florida to Texas A&M. Miller's time set a new Aggies program record and Ertan ranks second in Sun Devil history.
Both Ertan and Miller emphasize that they are key members of their team, as each tries to make themselves known on a national level. Both the Texas A&M and ASU women are aiming to move up the NCAA rankings, and while the bulk of that job will be on the runners, getting reliable points from distance swimmers isn't something you'll be concerned about. And yes, the 1000 and 1650 are two different beasts but like so much of the pre-midseason times, teams are hoping this swim is a sign of more success to come.
Ertan swept the distance events in ASU's dual against USC. Both races were exciting, especially the 500 free, where she caught Tuggle in the final 50 yards to edge out the Trojan swimmer, 4:42.01 to 4:42.12. This was the best season for Ertan, who moved to No. 6 in the NCAA.
Action D3 mounts
The Division III race is starting to heat up. There were several big D3 meets this weekend, which saw 18 swimmers in the top division. Those meets include the rivalry meet between Kenyon and Denison and the Chicago D3 Shootout (which operates in a similar format to the SMU Classic).
The Chicago D3 Shootout produced 13 of those times, with Trinity (Texas) putting up four. Nellie Burns He swam three: 200 breaststroke (2:17.82), 200 NM (2:04.40), and 400 NM (4:21.40). Her teammate Foxhoven village He achieved the highest time in the 100 breaststroke with a time of 1:04.08.
Other swimmers, like Burns, have set multiple state-leading times Alex Turvey (Pomona-Pitzer) in the women's 100 freestyle (50.95)/100 fly (55.27), Alex McCormick Washoe in the men's 100 backstroke (48.43)/200 backstroke (1:46.06), and Jake Mayer In the men's 100 breast (53.50)/200 breast (1:59.17).
And while they didn't compete in an invitational, we did get a treat in an early season matchup between D3 powerhouses Kenyon and Denison. Denison, the defending women's national champion, won the women's meet 167-133. The owls were victorious on the men's side. They beat Denison by four points, 151-147.
It's also worth noting that the 800 medley relay was on the event schedule for Kenyon's dual meet with Ohio Wesleyan the day before.
Quick visits
We got another tie this weekend, as the women of South Carolina and North Carolina squared off in a border battle. UNC relied on its runners to come back from a 9-point deficit in the final relay. Amy Riordan She led the South Carolina women, setting a school record of 1:44.31 200 freestyle to likely qualify for her first NCAAs. This is an important swim for the Gamecocks, who graduated a 2023 NCAA all-time point guard with a diver Brooke Schultz.
For the first time in program history, the George Washington women defeated Pitt, downing the Panthers 171-128. The two teams faced each other on a long course, made the win all the more impressive because George Washington does not have a 50-meter pool at its facility.
After going without a head coach through the first seven weeks of the season, the Fordham men's and women's teams were undefeated. They picked up wins over Georgetown (the program's No. 1 on the men's side, which made it to the final relay) to maintain their streak. This is the first time since joining the Atlantic-10 that both the men and women have gone 4-0 to start a season.
From this, there are many mediocre teams that have competed in at least three meetings and are yet to be defeated. This includes Wyoming women, Seton Hall men, Villanova women, Loyola (MD) men, and William & Mary women – let us know if you know of any others.
The annual Cal/Stanford distance triathlon meet was this weekend. The sweeps came as a courtesy Rex Maurer In the 200/500/1000 freestyle (1:38.44/4:22.72/9:02.75), Destin Lasko In instant messages (51.13/1:49.44/3:55.26), and Aaron Sequeira In backstroke (22.34/47.67/1:43.36). Sequeira broke out in the postseason last year and is now an even more important member of Stanford's team with all the roster changes.