Next Weather: Spring weather intensifies from Thursday to Friday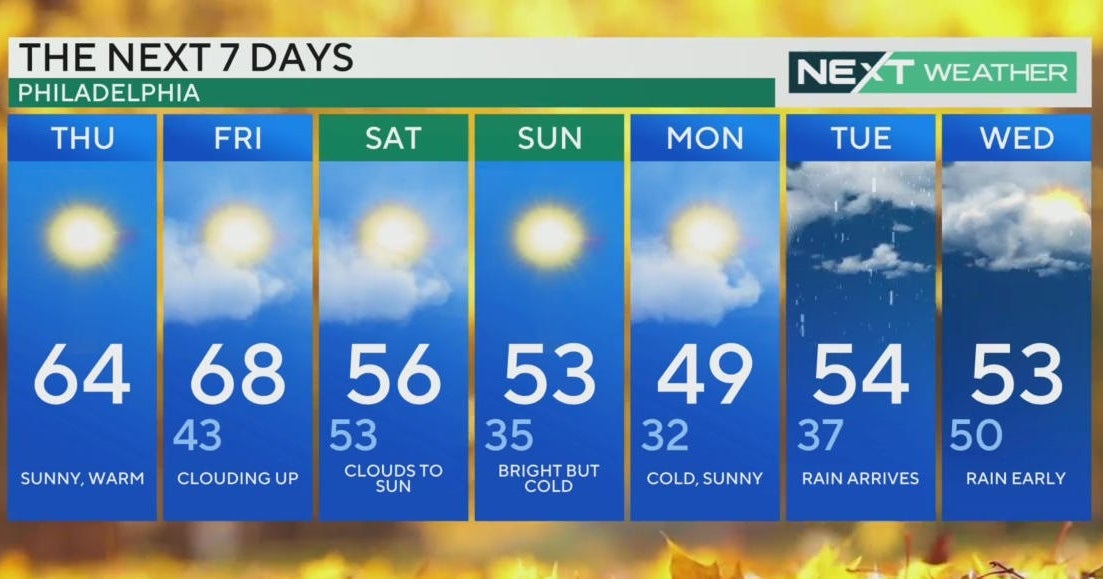 PHILADELPHIA (CBS) — It's starting to feel more like the holiday season with cooler morning temperatures, but we'll see some spring-like weather over the next couple of days.
Conditions on Thursday are expected to be nice, mild and sunny with temperatures 5 to 10 degrees above average in the upper 60s.
There is no system directly impacting the Delaware Valley at this time, but a cold front is beginning to advance over parts of the northern Plains that may bring showers. There is also a coastal depression that will extend along the East Coast, which is starting to form off the Carolinas and Florida.
Friday is expected to start off well and temperatures could reach near the 70s. Then, later in the afternoon and evening, the region may witness showers of rain as a result of the approaching coastal depression. The wind is likely to blow – especially on the beach.
Eventually, the cold front system will push the coastal low outward and dissipate over the Delaware Valley with little impact late Friday into Saturday.
However, there will be showers early Saturday morning with possible cloud cover around the Philadelphia area that will eventually clear. Saturday afternoon, there will be cool air and some gusty winds.
Thanksgiving week gets progressively cooler
The week is expected to start off cold on Monday with temperatures in the 40s. A warm, low system will approach the Delaware Valley on Tuesday and push temperatures into the mid 50s. Heavy rain is expected to fall during Tuesday night and into Wednesday morning.
The onset of rain will continue for part of Wednesday, but will likely clear up by the afternoon and evening. The weather on Thursday – Thanksgiving – is expected to be cold, windy and bright.
Due to these conditions mentioned above, the worst time to travel is expected to be Tuesday afternoon to midday Wednesday.
Here's your 7-day forecast:
Thursday: Moderate and sunny. High 64, low 38
Friday: warm, cloudy. High 68, low 43
Saturday: Rain showers in the morning. High 56, low 54
Sunday: cooler, windier. High 52, low 34
MondayCold day: 48, low 31
Tuesday: Cloudy, late shower? High 53, low 37
Wednesday: Increased drag. High 56
Next weather radars
Hourly forecast
Get the latest weather information on the CBS News Philadelphia app.
(Tags for translation)Pennsylvania