Prepare yourself for a hectic week of Thanksgiving travel and bad weather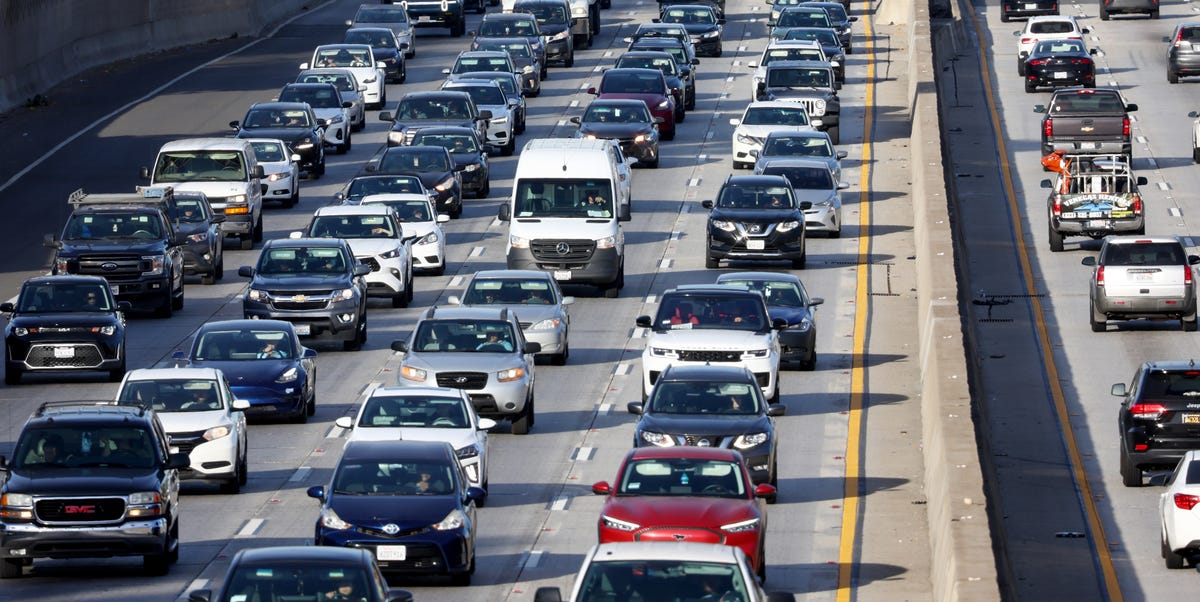 AAA expects 55.4 million people will travel 50 miles or more this Thanksgiving week, representing 2.3% growth over 2022 travel volume.
The association expects this Thanksgiving week to see the third highest travel volume since 2000.
A storm system is expected to impact the Southeast and Mid-Atlantic through Wednesday morning and could impact air travel schedules, along with a cold front in the Northeast that will bring freezing temperatures overnight after weeks of unseasonably warm weather.
---
2023 has already been a travel rebound year, as we saw during the Memorial Day and Independence Day travel holidays. Thanksgiving should be no different, as AAA expects 55.4 million travelers will use planes, trains, cars and also cruise ships to travel 50 miles or more from home.
Among other things, this forecast represents a 2.3% increase from 2022. But more importantly, it could be the third-highest Thanksgiving travel weekend since 2000.
"For many Americans, Thanksgiving and travel go hand in hand. This holiday, we expect more people on the roads, skies and seas than in 2022," said Paula Twaddell, senior vice president, AAA Travel.
AAA expects 49.1 million people will drive to their destinations, representing a 1.7% increase since 2022, while 4.7 million people will travel by plane. The number of passengers is expected to see an increase of 6.6% compared to the previous year, as the air travel industry was still in recovery mode in 2022.
One good news about driving, compared to 2022, is that the national average gas price at the beginning of this week was $3.30 a gallon, compared to about $3.60 at this time last year.
Car rental availability is also seen to have recovered from most of the issues seen in 2022, as it is important to remember that many travelers who will be traveling by plane may also need to rent cars at their destinations.
So at least these two aspects of car travel will be slightly better this year.
The Tuesday and Wednesday before Thanksgiving are expected to see the most congestion on roads, which may be exacerbated by a storm system expected to impact the Southeast, mid-Atlantic and parts of the Northeast on Tuesday and Wednesday, bringing rain and thunderstorms. And also snow.
"The day before Thanksgiving is one of the busiest days on our roads," said Bob Pescio, transportation analyst at INRIX. "Travelers should be prepared for long delays, especially in and around major metro stations."
Saturday and Sunday will, of course, see heavy traffic as people return in time to report to work on Monday, although AAA notes that Monday will also be a popular day for return trips as people try to avoid the weekend traffic rush.
Perhaps the most surprising forecast when it comes to this year's Thanksgiving travel trends — and the biggest gains by travel mode sector — will be an 11% increase in those who will travel by bus, train, and cruise ship.
"The cruise industry, in particular, has made a remarkable comeback," Twidale said. "Thanksgiving cruises are mostly sold out, with many travelers looking forward to spending the holiday at sea."
From a broader perspective, this Thanksgiving travel week will be the busiest since the start of the pandemic, a factor that was at one time seen as favoring long-term car travel.
However, the global aviation industry is now seen to have largely returned to pre-pandemic levels. Among other things, we expect to see busier holiday travel volume in December than at any time since 2020 and perhaps previous years.
Has the pandemic affected the way you travel this year, or Has he ceased to be a factor? Let us know in the comments below.
Guy Ramey grew up around very exotic European cars, and instead of looking for something reliable and comfortable for his personal use, he was drawn to the more adventurous side of the reliability spectrum. Although French cars have been following him over the past decade, he has somehow managed to avoid ownership of a Citroën, considering it too mundane, and is currently eyeing cars from the former Czechoslovakia. Jay has been with Autoweek since 2013.