Retiring teachers may soon get a pay raise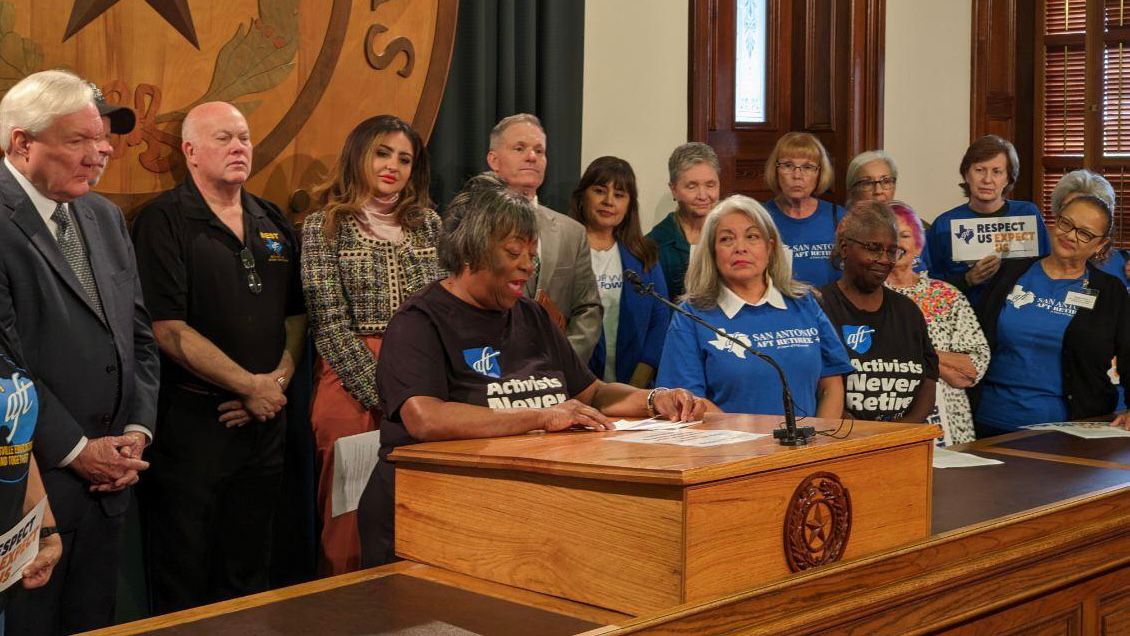 AUSTIN, Texas — Rita Runnels is one of several retired public school teachers who petitioned for higher salaries at the Texas State Capitol this year. In Texas, retirees can receive a pension based on age and years of service. Since his retirement in 2008, Runnels has not seen a pay increase.
---
What you need to know
Retired public school teachers are demanding a raise in their salaries
In Texas, retirees can receive a pension based on age and years of service. But retirees say they have never seen this number increase before
There's a new bill on the ballot for the upcoming election in November that would give teachers a cost-of-living adjustment
---
"That's why we're fighting, for all of us, and for the current teachers as well, because I want them to not have to go through what we go through as retirees," Runnels said.
Runnels, who was a teacher and then assistant principal, considers herself lucky. Because she held a higher position within the district, her monthly check was $3,000. The American Federation of Teachers, or AFT, says the average annual pension is less than $2,200.
"It's not enough to cover a person's living expenses today," Runnels said.
In 2013, teachers who retired before 2004 received a pay raise. But the AFT says teachers who retired in 2005, when the average monthly premium was less than $1,800, still receive the same amount.
"It's been a long time since we've been able to make a cost-of-living adjustment for our teachers," said Rep. Dewayne Burns, R-Cleburne. "They provide one of the most important services we can ask of our public servants, (and) the education of our children. We need to reward them with the retirement we promised them, with a respectable wage and income that allows them to retire, and show them the appreciation they deserve and have earned."
Burns was a co-sponsor of the bill that eventually passed, but retired teachers won't get that pay raise unless voters approve it at the ballot box in November.
"I think if you value our retired teachers, or if you're a retired teacher, make sure you get out there in November and support this constitutional amendment," said Rep. Burns. "Passage of this constitutional amendment that authorizes the Legislature to spend more money than we are constitutionally permitted to make or break the cost of living amendment. So I would just encourage people to do your research and come to the polls in November to support our retired teachers."
This year's pay increases, which have received bipartisan support, will be staggered increases based on a teacher's retirement date. According to the Texas Retired Teachers Association, about 420,000 retirees will see a pay increase. Runnels will receive a 4% raise, or about $120 per month.
She had hoped for a 10% cost of living adjustment, but will continue to advocate for that.
"All we can do is continue to fight for their bill, and hope that it reverses the inflation that we face at the community level," said Rep. Erin Gamez, D-Brownsville, who also sponsored the bill.
By the beginning of September, retired teachers over 70 should receive a one-time stipend from the state. As part of the COLA bill itself, lawmakers approved a "13th check" for members of the Teacher Retirement System. Retirees ages 70 to 74 will receive $2,400, and people over 75 will receive $7,500.
"It's an amazing start. It's an amazing start. It's long overdue," Rep. Gamez said.
The state has offered 13th checks in the past, but Runnels says they were just a "Band-Aid." That's why she has been fighting for a more sustainable solution like COLA.
Runnels, who also heads Texas AFT Retiree Plus, said she conducted a survey the last time a 13th check was distributed. She said the former teachers used the money to pay for necessities such as medications, medical bills, air conditioning units and home repairs.
"This broke my heart," Runnels said. "When (one retiree) got hers, she said, 'I can pay for more chemotherapy.' So that's what we did. This is how retirees live. Is that what we want for your favorite teacher?"
Runnels says it's great that lawmakers are paying attention to retired teachers this session, but in the end, they still need higher salaries.
"On the first day of school, if our principal gave us a pencil, we would be thrilled," Runnels said. "We appreciate anything that's given to us, so we're very appreciative of all our COLA, but we just need more. And I'm fighting for that person who's getting paid less than me."
Follow Charlotte Scott on Facebook and Twitter.
(tags for translation) CTV