Several wildfires in eastern Kentucky were contained and under control before the weekend's dry weather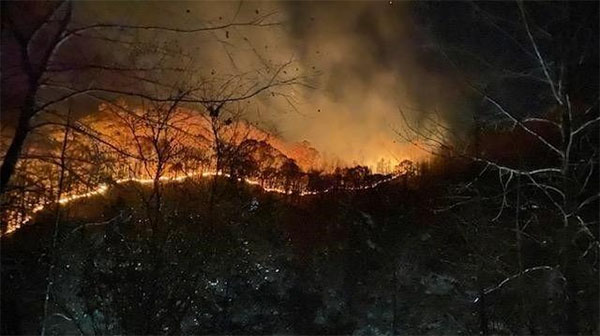 Written by Tom Latic
Kentucky today
On Monday, Kentucky Gov. Andy Beshear, who declared a state of emergency last Thursday due to wildfires raging mostly in eastern Kentucky, encouraged Kentuckians to remain vigilant as wildfires continue to challenge parts of the state, and praised the efforts of firefighters.
There are currently 16 active wildfires – fires that are being worked to extinguish but continue to spread, down from 31 on Thursday. A total of 36 fires, those with containment lines that have stopped their spread but require some level of work, have been contained and 76 are now considered under control, meaning they have been managed and are no longer at risk of escaping control lines. This is an increase from 44 on Thursday. So far, nearly 27,000 acres have been affected.
"We are experiencing a volatile fire season, and although our team is making progress, the situation remains dangerous," Bashir said. "We are grateful to those working on the front lines to control these fires and protect our homes and communities."
The Governor's Executive Order allows state resources such as Kentucky Emergency Management and the Kentucky National Guard to be activated as needed to help protect Kentucky families and communities. The state's emergency operations center has also been activated to level four.
In addition to local and state responders, the Kentucky Division of Forestry and Kentucky Emergency Management coordinated assistance from forestry teams from the U.S. Forest Service (including the Daniel Boone National Forest), and state forest agencies in Idaho, Oregon, Washington, and Utah. Florida, Arkansas and Texas. The Virginia Department of Forestry teamed up with Kenya Defense Forces crews to control wildfires along the state border. About 340 firefighters are on site.
Weather conditions remain challenging, as high pressure will continue to settle across the Ohio Valley through Thursday. This will bring very dry weather with higher than normal temperatures through Friday.
Drought conditions have increased wildfire threats, with 40% of the state experiencing at least moderate drought conditions, according to the latest U.S. Drought Monitor report. Kentucky is in the middle of the fall wildfire risk season, and there are additional restrictions through a countywide burn ban. This burn ban prohibits the burning of any type of material at any time of the day.
To learn about current county burn bans, visit eec.ky.gov.