Spartans advance the science behind the sport | MSUToday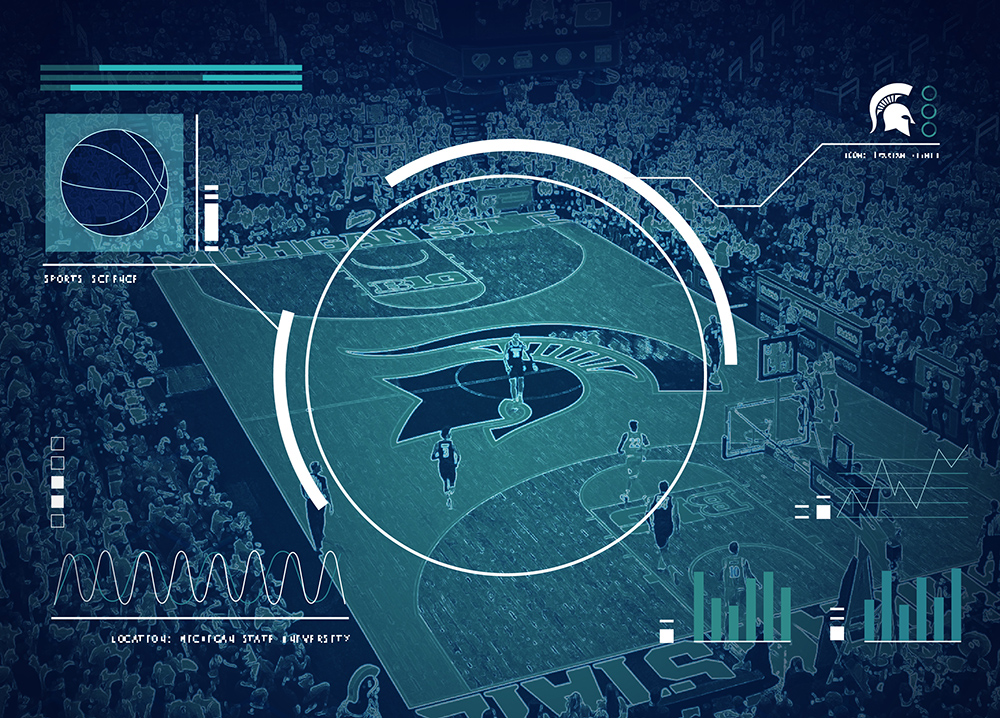 The technology behind the wins
When Burghardt first began working with MSU athletics as a graduate assistant while earning his master's degree in kinesiology from 2009 to 2011, he served as a member of the strength and conditioning teams for football and a variety of other sports at MSU. He loved the work and was keen to learn as much as he could about the craft, which for him meant looking at the science and technology behind it.
Bill Burghardt watches Michigan State University football practices. Photo by Michigan State University Athletics
"I was researching the stressors our athletes face, and I wanted to find solutions that would make it easier for us to understand what a student-athlete is going through," Burghardt says. After earning his master's degree, he was hired as a strength and conditioning coach for the football team, and continued to research technology that would help him do his job better, which in turn would help the team on the field.
In 2016, Burghardt and the football staff found a device from Catapult Sports called the Catapult Vector — the same device the MSU men's basketball team uses today. At that point, it was mostly used by European football clubs, but for Burghardt, it was "the perfect marriage between sport, physiology, strength and conditioning and technology". By measuring things like how often a player is tackled, how many times the ball is thrown, position of play (inside or outside), acceleration, heart rate, and more, athletics staff can learn a lot about a student-athlete's performance.
By 2018, Burghardt and the football team felt they were seeing a measurable benefit in using the technology and the data it brought back. Meanwhile, Burghardt saw an opportunity to pursue a PhD in the Department of Kinesiology, which he achieved in 2021, thanks in part to data from the tracker. This was his third degree from Michigan State University.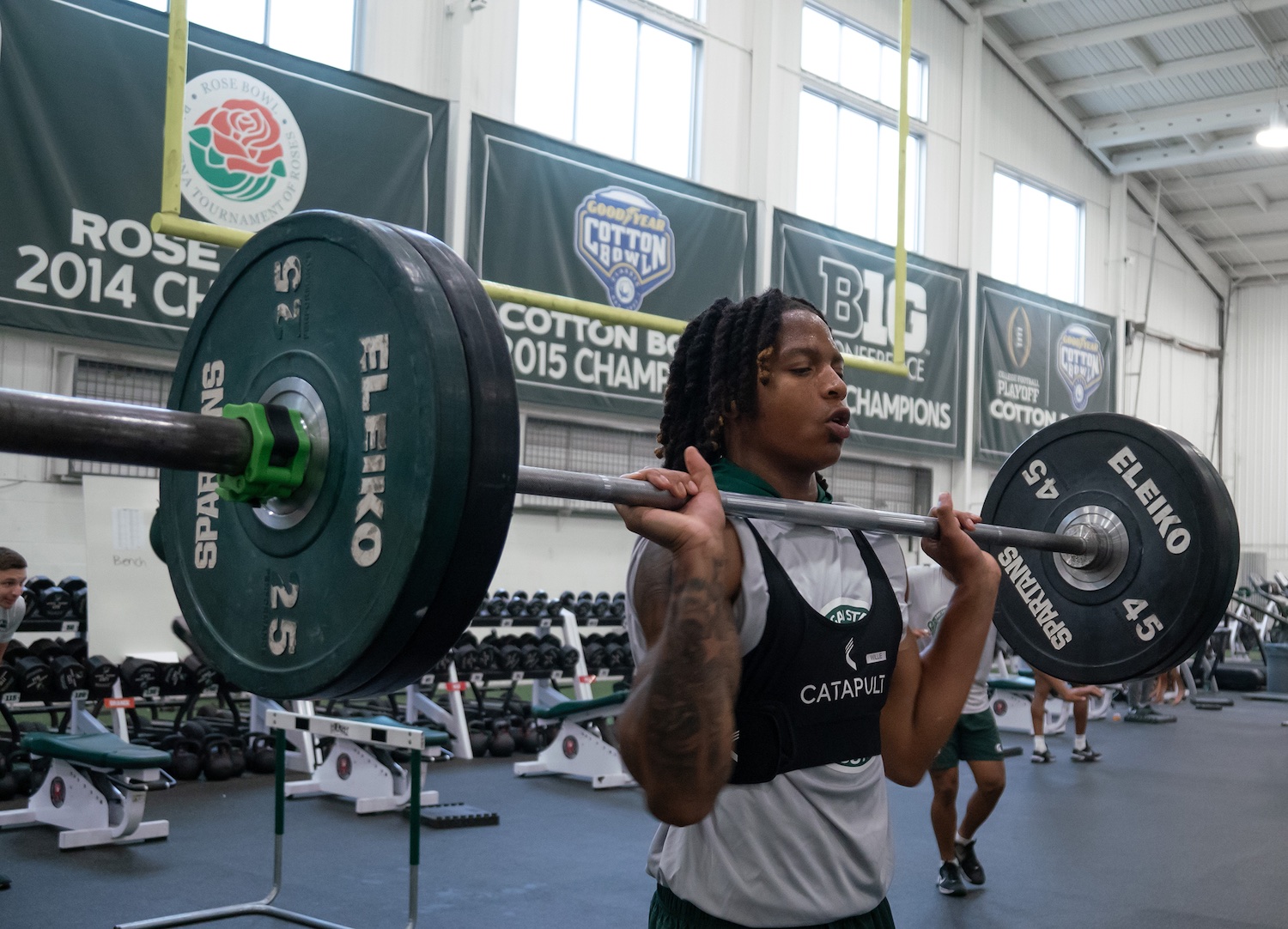 Ade Willie trains in the Catapult tracker. Photo by Michigan State University Athletics
After taking over as director of football sport science in 2020, he was promoted to director of sport science for all athletics at MSU the following year. Today, he's building a team that works with devices like Catapult for teams across Spartan sports. In fact, eight teams are now wearing the tracking devices in preparation for the competition. Football, men's and women's basketball, volleyball, ice hockey, field hockey, men's soccer and women's soccer — which just won its second straight Big Ten championship this fall — are all working with the MSU sports science team to reach the top of their game.
Work in sports science is not limited to the athletics department. Burghardt is excited to collaborate with departments and researchers across campus, including his colleague Albert Cohen, who leads the Graduate Certificate Program in Sports Analytics at MSU. There's more to sports science at MSU than analytics and physiology—the mental side of sports is crucial, too.
For example, researchers in the College of Communication Arts and Sciences are working with the NCAA to address the stigma surrounding mental health in student athletics.
Caring for the minds of athletes
Bree Holtz, associate professor in the Department of Advertising and Public Relations, has a background in information and communications technologies and health communications and studies how health can be improved. Holtz believes there is an opportunity to find ways to reach young people struggling with mental health through an app.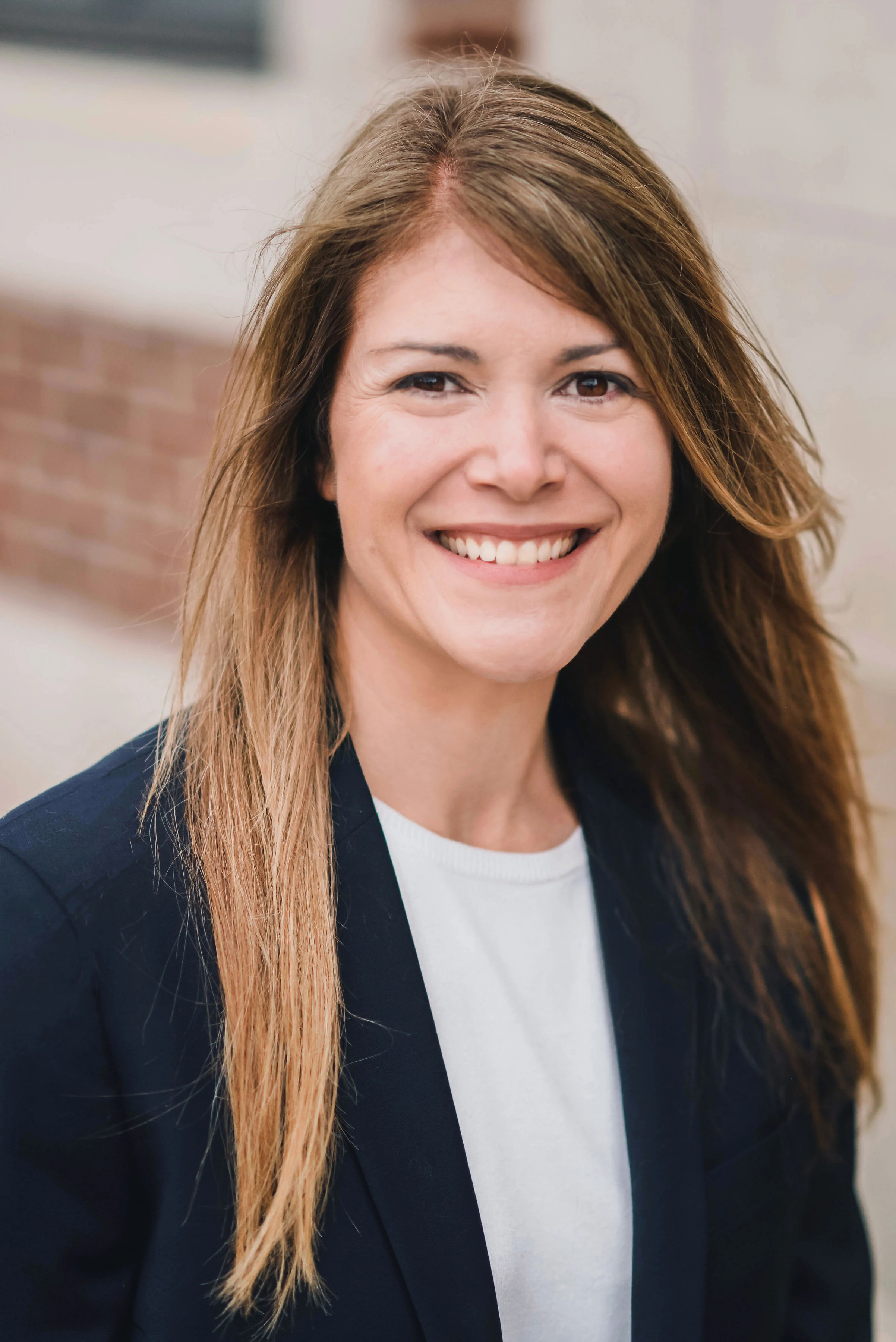 Bree Holtz. Courtesy photo
So, when a researcher from the University of Alabama approached Holtz about the impact of mental health on student athletes, she was interested in learning more. "They are young people who struggle with the same problems and issues as their peers, but sometimes it can seem more severe because they have more stress in their day through training and competitions," Holtz says. Together, Holtz and the Alabama team applied for and received an NCAA grant to understand the mental health stressors student athletes face and the barriers they face when trying to access support.
Their project, "Interactive Narratives for Mental Health: Sharing Success Stories," received a $25,000 grant from the NCAA for its annual NCAA Innovations in Research and Practice program, which aims to fund research teams conducting studies that empower student-athletes. 'Psychological and social safety. Research began in June 2023, and next June, Holtz hopes to have a finished product.
This final product will be a serious game accessible through an app that enables student-athletes to seek help. A serious game is similar to a Choose Your Own Adventure book, but in this case it simulates situations or problems a student-athlete might face. With the creation of these serious games, the research team hopes to see an improvement in the ways mental health conversations and behaviors are handled in athletic communities, reducing the stressors that student-athletes deal with on a daily basis.
To help shape the games, Holtz brought together student-athletes from MSU and Alabama in focus groups. The groups worked together on storyboards and drawings that dealt with situations that might affect student-athletes.
The Spartans are busy working on youth sports and the mental health aspect of sports as well. Professor Emeritus Dan Gould, the 40-plus former director of the Institute for the Study of Youth Sports, will be inducted into the International Society for Sport Psychology Hall of Fame in 2023. MSU Athletics has a staff dedicated to student-athlete wellness as well .
One thing Holtz pointed out is that there are resources at MSU and in the athletics department for student-athletes, but the stigma of seeking help can still be a barrier. As she continues to work with her colleagues at the University of Alabama during the year-long grant to develop a serious game, she is grateful for the support MSU Athletics provides.
"Without the collaboration, guidance and resources provided by Ashton Henderson (Executive Assistant Athletic Director), Allan Haller (Athletic Director) and Ebony Clark (Deputy Athletic Director), this accomplishment would not have been possible," Holtz says. "Their commitment to the well-being of student athletes has been instrumental in shaping our project and ensuring its success."
Interdepartmental collaboration is not new at Michigan State University. In fact, this willingness to work together is having a national impact in sports beyond collegiate play.