A new and very interesting Birds of Prey book came out this week. Written by Kelly Thompson and illustrated by Leonardo Romero, with some gorgeous color work from Jordi Bellair, the new series finds Black Canary putting together a new team to help rescue her sister Sin, who is currently imprisoned on Themyscira.
We've known exactly who would be in that lineup for a few months now, as Thompson slowly revealed each character on her personal Twitter account (they won't be referred to as an X on this site, thank you very much). We've previously covered the lineup here, but to quickly recap, the new team consists of: Black Canary, Batgirl, Big Barda, Zealot, and Harley Quinn.
For the most part, the first is about getting that gang together. Dinah compiled a list of potential candidates (names crossed out include Barbara Gordon, Huntress, Selina Kyle, Vixen, Talia al Ghul, and many more) and began recruiting them one by one. The goal, in the words of Oliver Queen, is to put a team together that will get their enemies "$@#% in their pants before you can say a word or strike a blow".
In practice, this means that Dinah appears to each character in turn and talks them into joining her new crew. Cassandra Cain/Batgirl is instantly persuaded by the idea ("What's more important than a sister?"), Big Barda agrees when she learns Sin is in danger, and Zealot joins in because she owes Black Canary a favour.
The fifth member of the team is a more controversial selection. Dinah is adamantly against Harley's enlistment until Cass Cain surprisingly goes to attack her accidental enemy, somewhat convincingly stating that Harley's anarchic spirit will give them a strong element of surprise.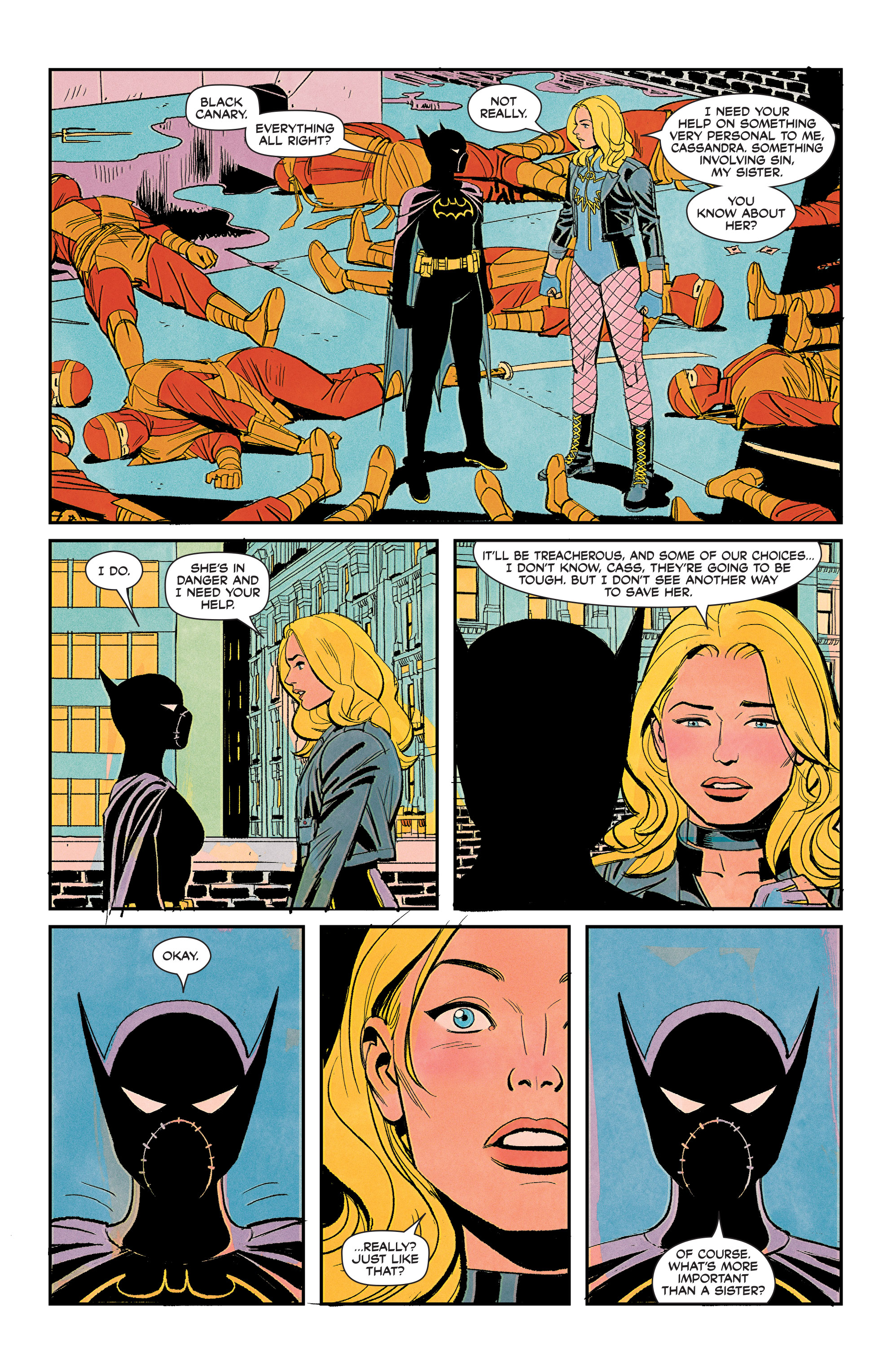 We said above that the book reveals a secret sixth member, which is what happens on the last page. As the group prepares for their mission, a new character enters the room. Meet Meridian – AKA the adult version of Maps/Mia Mizoguchi from the future.
Introduced back in 2014's Gotham Academy #1, Mizoguchi quickly becomes the main character in the book. Maps was a little girl who adored Batman and dreamed of one day becoming Robin (something that actually happened in Batman: Black and White #3).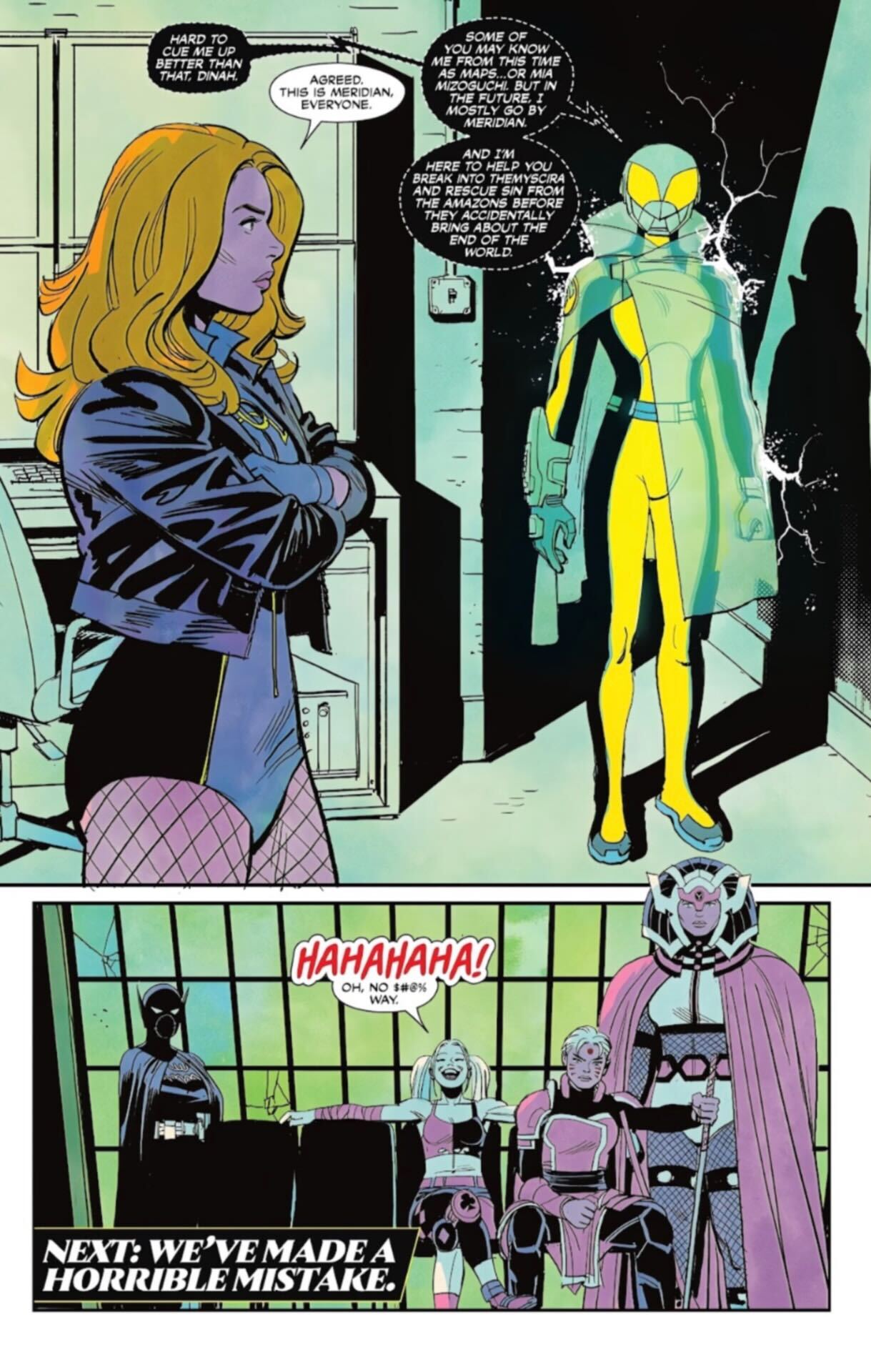 The new maps are a much more impressive character, with an insect-like mask, a transparent cloak over her suit, and inverted black speech bubbles. She says she came back from the future to save Sin before the Amazons accidentally caused the end of the world – so the book's stakes were effectively raised.
This is a very strong start for the new series, with Romero's eye-catching old school pencils and Peeler's pop art palette particularly standing out. As Harley says at one point near the end of the issue, "I'm excited about this team. It's weird, but it's top-notch weird, and I like it."
---
Birds of prey rank high on our list of birds of prey The best female superhero teams.