Thunderstorms are expected across much of Australia with the Melbourne Cup just hours away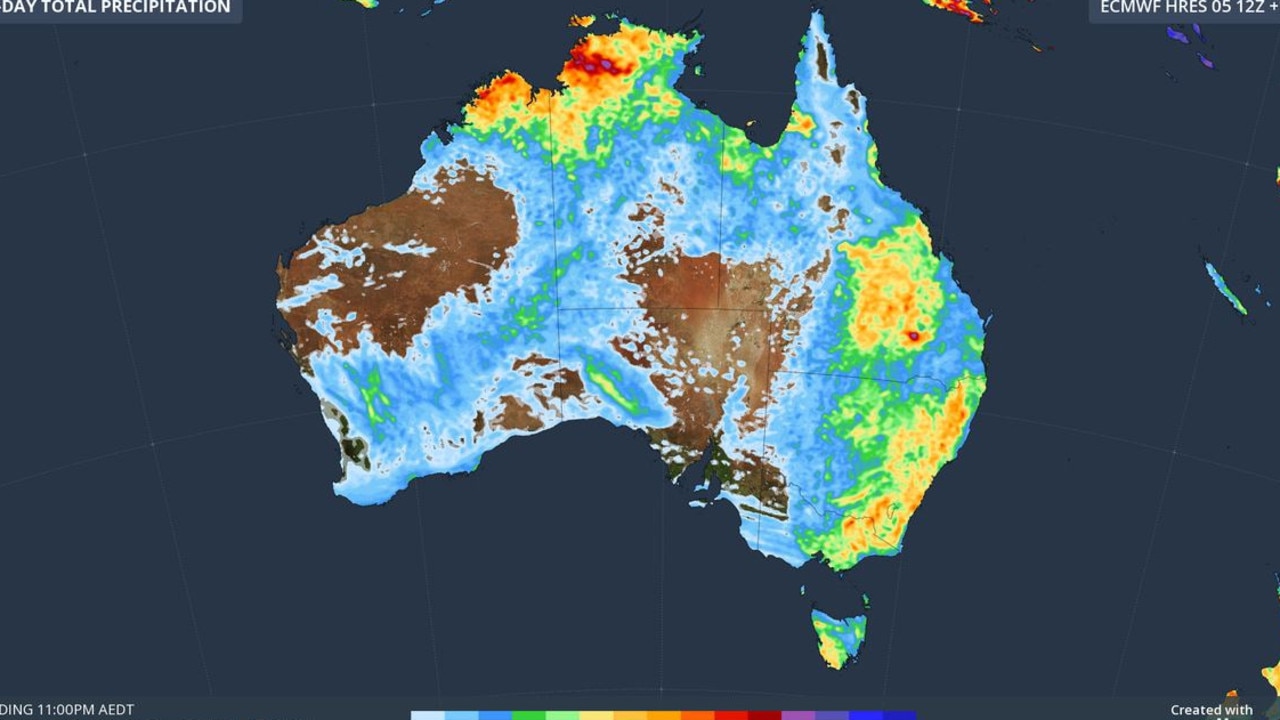 The forecast thunderstorms stayed away long enough for the Melbourne Cup to start and be won.
The temperature in Melbourne is also expected to reach 30 degrees, which could mean the hottest day at the Melbourne Cup since 2005.
The Bureau of Meteorology expects there to be a moderate chance of rain and thunderstorms during the afternoon and evening in the Melbourne area on Tuesday.
These thunderstorms will likely become severe, with northerly winds of 25 to 35 km/h decreasing to 15 to 20 km/h by late afternoon.
However, Sky News meteorologist Rob Sharp said Melbourne could still face a storm, with rain expected from 2pm to 7pm on Tuesday.
"I don't think (the thunderstorm) will come quite at 3pm in Melbourne at Flemington Racecourse, it's more likely to happen straight after that, but it's a chance," Mr Sharp said before the race.
The rest of Victoria is also facing wet weather conditions, with thunderstorms, damaging storms and large hail forming across the state on Tuesday.
"Through Victoria we see those thunderstorms forming," Mr Sharp said.
"They started in the morning in the northeast of the state.
"It's a big weather risk this afternoon."
Melbourne recorded a warm temperature of 29.8 degrees on Monday, and the warmth is expected to continue on Tuesday across the state.
"It looks very similar (to Tuesday) but add to that the element of thunderstorm activity, there's a bit of a dangerous cocktail for some people around Victoria today," Mr Sharp said.
"There is significant heat across the country at the moment, warmer than normal in most parts of south-eastern Australia even in Tasmania.
"A little moisture helps fuel thunderstorms today."
The rest of the country is also expected to see heavy rain and thunderstorms on Tuesday and Wednesday.
A severe thunderstorm warning for large hail and heavy rain has been issued for the Lower Western Region and parts of the Riverina and Upper Western Regions of NSW at 2.34pm on Tuesday.
"Every state and territory today could see thunderstorm activity," Mr Sharp said.
"Inland areas are seeing rain and thunderstorms again, some of which will likely be severe for Queensland and parts of NSW.
"Potential heavy rain could lead to flash flooding with the slow-moving nature of these storms.
"Storms are also likely to form over northwestern Australia, central Australia and parts of Western Australia as well."
The country is also expected to experience "several million lightning strikes" over the coming days, according to Weatherzone.
"This comes on the heels of a stormy weekend that produced more than a million lightning strikes over Australia on Saturday and Sunday," Weatherson said.
The bureau forecast severe storms across central and southern inland Queensland today, including areas such as Barcaldine, Blackall, Longreach and Charleville.
Large hailstones, strong winds, and heavy rain also pose major concerns for these areas, with widespread thunderstorm activity continuing in other areas.
Mr Sharp said as the week progressed, New South Wales, Victoria and Tasmania were likely to be hit hardest by thunderstorms.
"The target state is Victoria (on Wednesday), where severe thunderstorms are expected to develop and should be larger than today," Sharp said.
"New South Wales, Victoria and Tasmania are likely to start seeing more widespread thunderstorm activity.
"NSW will become the target state on Thursday and Friday."
It comes as the bureau released October rainfall data for Queensland on Tuesday.
Queensland recorded rainfall 83.6 per cent below the 1961-1990 average, making it the driest October on record and the driest since 2006.
"Parts of the Southeast experienced the lowest October rainfall on record," the office said.
"The average temperature in the state was 1.14 degrees Celsius above average."
Meanwhile, Victoria recorded 69.45mm of rainfall in October, which was 7.5 per cent more than the 1961-1990 average.
"Mount Hotham was the wettest location overall in the state with a total rainfall of 331.4 mm," the office stated.
"The average maximum temperature was 0.52 degrees higher than the average for the period 1961-1990."
Read related topics:
Melbourne
(Tags for translation)Rob Sharpe