"Triple-factor" supercells threaten large hailstones and heavy rain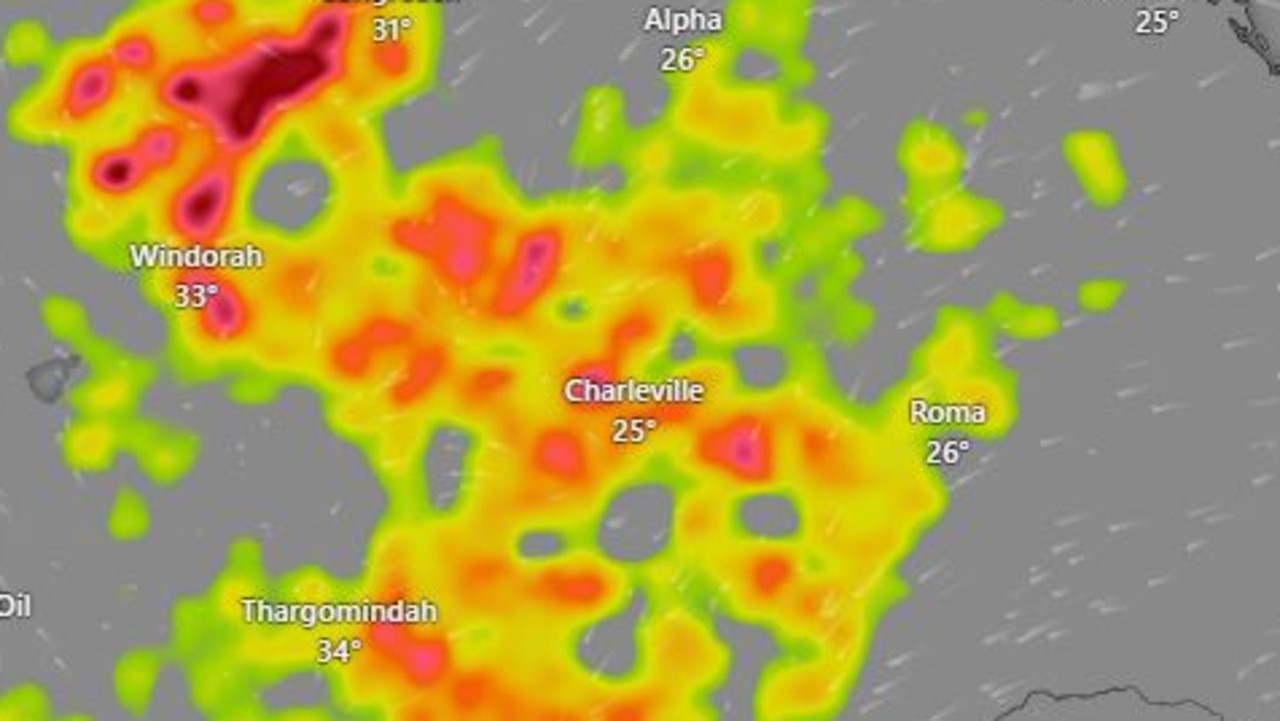 Storms are expected to hit parts of Queensland on Tuesday with the potential for heavy rain and damaging winds.
Reducing weather conditions allowed firefighters to control bushfires burning across Wallangara, Queensland on Wednesday, November 1. This footage, released by Queensland Fire and Emergency Services (QFES), shows the fire that destroyed fields in the rural town in October. 31. Authorities warned local residents to prepare to leave on Tuesday afternoon, less than an hour before residents were urged to seek shelter. According to local news reports, Wallangara residents were left without power that same night and were told to conserve water. As of Wednesday, the fire in Valangara had been mitigated, and residents were allowed to return "with caution." Queensland Premier Annastacia Palaszczuk confirmed that cold weather eased fire conditions on Tuesday night, adding that firefighting teams were able to neutralize more than 900 fires in twelve days. Credit: Qld Fire and Emergency Services via Storyful
Widespread thunderstorm activity was possible from as far north as Normanton in the Gulf State to as far south as St George near the NSW border.
Large hailstones, strong winds and heavy rain were "major concerns" for areas around Barcaldine, Blackall, Longreach and Charleville.
Chief meteorologist Willem Hannife warned residents in the interior regions of the center and south of the country to monitor severe weather warnings.
"Maybe you could draw a line from the Clermont area to Boulogne, and that would probably be a good estimate of where you would see the most action," he said.
"This afternoon, when the storms start, there is a risk of severe activity, and as you know, you could see some storms with large hail, damaging winds and heavy rain.
"The triple factor in terms of risk with any severe storm development."
Hanniffy said there was "definitely" a risk of severe storm warnings being issued Tuesday afternoon and into the evening in the expected Midwest, Warrego and Maranoa areas.
"Some of the more significant storm activity you can see is falling locally in the 30 to 60 mm range across this area," he said.
"The threat of thunderstorms continues in those inland areas on Wednesday as well, and the trough is moving westward although the precipitation and thunderstorm risk will spread westward."
He said the storm threat would then spread across the far west and northwest regions after Wednesday and into the latter parts of the week.
"Those areas in the west that have seen very little storm activity over the past two days will likely see rain and storms spreading their way," he said.
While the Southeast saw some light falling Tuesday morning, storm activity is unlikely to reach the coast.
"There is still a chance for some storms in the Granite Belt on Wednesday and over the next few days, but they are not severe," Hanniffy said.
"In the wider south-east, we will still have showers on Tuesday, retreating off the south-east coast as we head into tomorrow over the next few days."
He said there "may be a chance" early next week that the southeast coast could see the low in the west return eastward, bringing more rain and storm activity.
"But this is far-fetched," he added.
These expectations come at a time when the Bank of Morocco confirmed that October was the driest month since 2006, and the sixth driest on record.
Loading embed…
(tags for translation)Forecast areas