Weather in Maryland: Calm on Monday, turning windy on Tuesday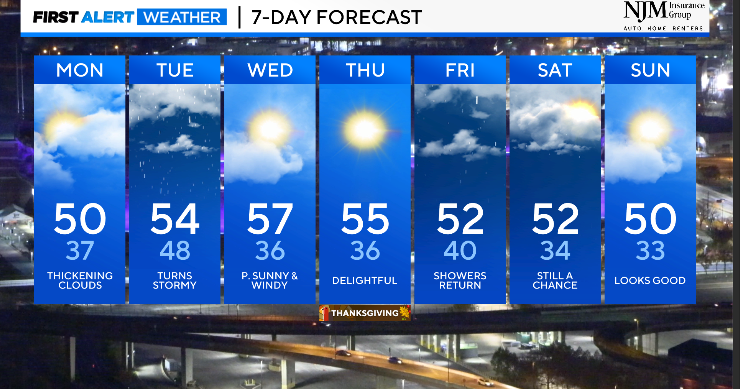 Baltimore – Expect a frosty start on Monday, but a nice, calm afternoon. The weather turns windy from Tuesday into Tuesday night.
With clear skies and light winds, temperatures will quickly drop into the low 30s tonight.
Expect widespread frosty conditions by early Monday morning. After an early morning frost on Monday, we will see an increase in high clouds blocking out the sun.
Despite the clouds, Monday looks like a comfortably cool and calm day. Expect great road conditions with dry and calm weather.
A strong storm will move across the country over the next few days. We will see the arrival of this storm during the day on Tuesday.
The arrival time of the storm depends on where you are across the state.
A mix of ice and sleet is possible early Tuesday morning across far western Maryland in the mountains.
Across the lower elevations of western Maryland, rain will fall during the morning hours on Tuesday. Meanwhile, closer to home, weather is expected to be dry and cloudy Tuesday morning in Baltimore and areas near the Eastern Shore and beaches.
The brunt of Tuesday's storm will hit areas in and around Baltimore Tuesday afternoon into Tuesday night.
Expect rain early midday to early afternoon Tuesday. Rain will become heavy and windy late Tuesday afternoon into Tuesday night.
There is also a chance of some thunderstorms Tuesday evening, especially south and east of Baltimore. Wind speeds could reach 30 to 35 mph Tuesday evening during the peak of the storm.
Widespread rainfall of 1 to 2 inches is possible before the precipitation ends before sunrise on Wednesday. Although it will rain during a significant travel period, the rain is most welcome as moderate drought conditions continue to expand across our region.
The weather on Wednesday is turning dry, which is great news for travelers.
While gusty winds will howl throughout the day, reaching 30 to 35 mph, the stormy weather will be over. Rain is expected to clear well offshore by Wednesday morning, so expect gradual clearing of skies throughout the day as road conditions dry quickly.
There could still be some delays at our area airports due to strong wind gusts and heavy volume, but we do not expect any additional stormy weather on Wednesday.
Thanksgiving Day looks like the prettiest day in the 7-day forecast with plenty of sunshine and seasonally mild temperatures. Highs will reach the mid 50s. The weather looks good for any outdoor activities or travel.
Another storm system will impact our area on Black Friday and early Saturday morning.
This storm doesn't look as strong as Tuesday's storm, but it will still require us to use umbrellas with the possibility of rain. Temperatures remain steady on both days with highs in the lower 50s.
It looks like the weather will dry out on Sunday for another big travel day as people return home after the Thanksgiving holiday. Look for partly sunny weather with highs near 50.