What is a red flag warning and why did you receive a phone alert?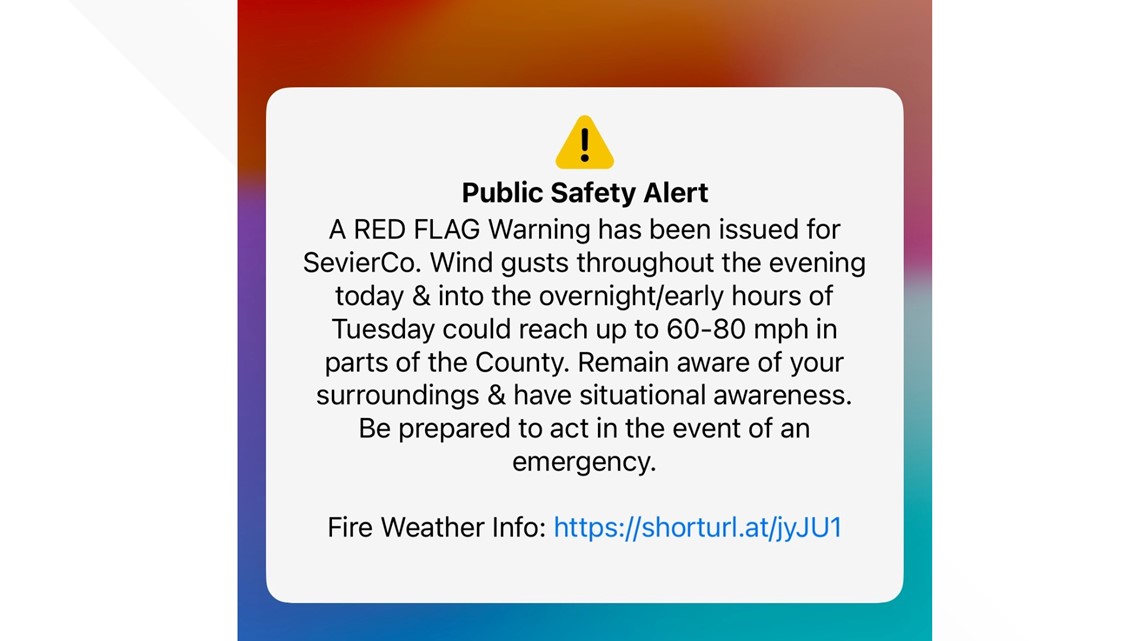 A red flag warning is used to warn people of the severe fire danger in the area. It is in effect in Sevier County until 6 a.m. Tuesday.
Sevier County, Tenn. — People in southern Sevier County received a warning on their phones Monday afternoon as officials worked to make sure everyone was aware of the severe fire threat across the region.
The Sevier County Emergency Management Agency sent out an IPAWS Alert at 4:00 PM Monday for a red flag warning in effect in the southern portion of the area. IPAWS is the same system used to send severe weather alerts and AMBER alerts to the public via phones.
Red Flag Warnings are issued by the National Weather Service and are intended to warn people of dry, windy conditions that could spark wildfires that could quickly spread out of control. People across Tennessee are being asked not to burn anything outdoors at this time.
Winds are expected to intensify across the area through the rest of the day, with the peak expected from midnight tonight through Tuesday afternoon.
The strongest winds will occur in the hills and mountains along the Tennessee/North Carolina state line. A high wind warning remains in effect through Tuesday afternoon, when wind speeds could reach 70 to 80 mph at elevations above 2,500 feet.
Areas under a red flag warning are shaded in red below: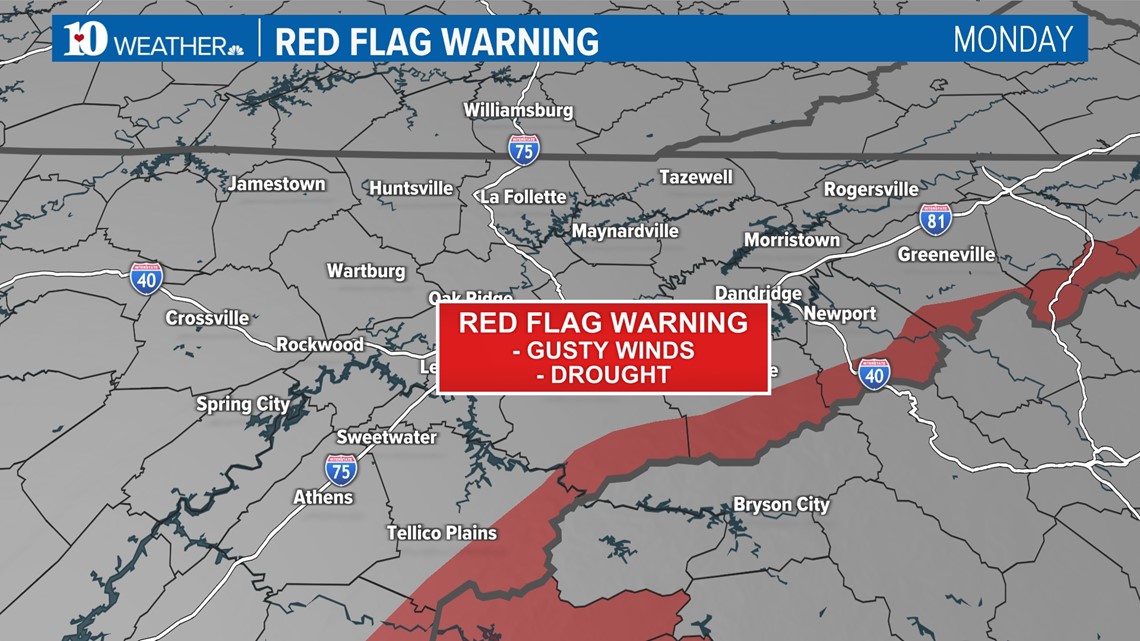 Due to persistent dry conditions, fire danger will be extremely high throughout the entire viewing area. Fires will be able to develop easily and spread very quickly in these conditions. If you live near an ongoing fire or start seeing smoke, it may be a good idea to have an "emergency kit" ready in case you need to evacuate the area on short notice.
The Sevier County Electric System said it cut power to some parts of GSMNP on Monday as a precaution to prevent downed electrical wires from sparking fires. That area included Elkmont and Metcalfe Bottoms.
"As expected, the winds are coming through the mountains and coming down inland, and that's going to be the first place they're going to hit. So we chose those winds that are impacting the least amount of people," Allen Robbins, CEO of SCES, said.
Populated areas like Townsend and Gatlinburg have put other safety precautions in place, the CEO said.
"We actually met last night to discuss how we're going to respond, what we're going to do. We met again this morning with the National Weather Service for a briefing. So, we met with all the staff of the European Meteorological Agency, the chiefs of fire departments, police departments and county mayors," he said. So, we were trying to be as proactive as possible."